"Ever After" Is a Musical and Modern Interpretation of Cinderella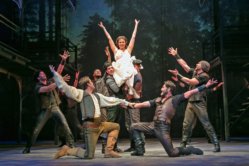 Margo Seibert (Danielle) and the men of "Ever After". Photo by Jerry Dalia .
"Ever After"
Directed and choreographed by Kathleen Marshall
Paper Mill Playhouse
22 Brookside Drive, Millburn, NJ
From May 21, 2015
Wed. at 7pm, Thurs. at 1:30pm & 7pm, Fri. at 7pm, Sat. at 1:30pm & 7pm, Sun. at 1:30pm & 7pm
Tickets: $28-$99 www.PaperMill.org
Closes June 21, 2015
Reviewed by Paulanne Simmons May 31, 2015
In the works for a decade, "Ever After" has finally landed at Paper Mill Playhouse, a prestigious venue that in the past few years has launched two Broadway musicals: "Newsies" and "Honeymoon in Vegas." Based on the 1998 Drew Barrymore vehicle of the same name, the musical has a book and lyrics by Marcy Heisler and music by Zina Goldrich. Most important, it has a fresh look at the old Cinderella fairy tale.
"Ever After" takes the traditional Cinderella and gives it a feminist angle. The poor orphaned girl, now called Danielle (Margo Seibert) has become a spirited young lady who is strong enough to lift a grown man and spunky enough to wield a sword. She's not even afraid to give her nasty stepsister, Marguerite (Mara Davi) a well-deserved slap. And she even manages to stand up to her wicked stepmother (the cheeky Christine Ebersole).
Margo Seibert (Danielle) and James Snyder (Henry). Photo by Jerry Dalia.
What's more, the story is now set in Renaissance France. King Francis (Charles Shaughnessy) wants his son to make a good political match and marry the Spanish princess (Jill Abramowitz). But young Prince Henry (James Snyer) has his own ideas about romance, and his indulgent mother, Queen Marie (the always funny Julie Halston), convinces the king to give the prince a chance at finding his own true love.
The much-embellished plot includes chance meetings, mistaken identities and an encounter with a group of gypsies. The fairy godmother role is taken over by Leonardo da Vinci (Tony Sheldon), who is a painter in Francis's court.
This plot has so many twists that even a talented director/choreographer like Kathleen Marshall cannot quite keep the show focussed. Too often a promising storyline is abandoned. What happens to those loyal gypsies? And quirky characters played by exceptional actors are abandoned or underutilized. Surely more could have been made of Leonardo, the King and Queens and Daniele's more amiable, chubby sister, Jacqueline (portrayed with much gusto by Annie Funke).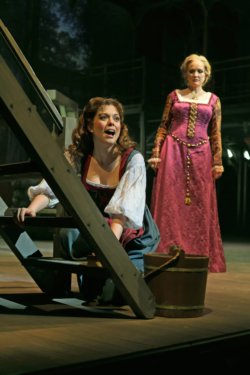 Margo Seibert (Danielle) and Christine Ebersole(Rodmilla). Photo by Jerry Dalia.
Heisler and Goldrich's score is certainly adequate, but it provides only a few truly memorable tunes, mostly the more humorous numbers: "My Cousin's Cousin," "Is There Anything Leonardo Can't Do?" And Marshall's choreography only comes to life infrequently. The gypsies' dance is one example of what should have happened more frequently onstage.
L-R: Annie Funke(Jacqueline), Christine Ebersole (Rodmilla) and Mara Davi (Marguerite). Photo by Jerry Dalia.
This production is enhanced by Jess Goldstein's lavish costumes and Derek McLane's set that combines vaguely renaissance-like structures with scene-changing projections.
With it's stellar cast and A-list direction, one suspects the producers of "Ever After" may be preparing themselves for a Broadway run. But in a market already saturated with family friendly entertainment like "Aladdin," "Matilda" and "Finding Neverland" only the very fittest can compete, and "Ever After" should be much more fit to survive.