"Jacuzzi"
"Jacuzzi"
Directed by Oliver Butler
Ars Nova
511 West 54 Street
Opened Oct. 13, 2014
Monday - Wednesday at 7pm, Thursday - Saturday at 8pm
Wet and Wild Saturday performances at 2pm on Oct. 18, Oct. 25 and Nov. 1
Tickets: $35 (212) 352-3101, for more information visit www.arsnovanyc.com
Closes Nov. 8, 2014
Reviewed by Paulanne Simmons Oct. 22, 2014
Paul Thureen and Hannah Bos. Photo by Ben Arons.
Not since Lloyd Bridges starred in the television series "Sea Hunt," back in the late 50s and early 60s, have actors been submerged so long in water as in Hannah Bos and Paul Thureen's "Jacuzzi." The Jacuzzi in question is installed in the middle of the set (Laura Jellinek), a Colorado ski lodge, and during the show, Helene (Hannah Bos) and Erik (Paul Thureen), presumably the caretakers or the lodge, and it's owner Robert Elder (Peter Friedman) and his son Bo (Chris Lowell) all take a dip, by themselves or together.
But, to continue the theme of water, there's something fishy going on. From the very first phone message, it's obvious Erik and Helene are up to no good. What exactly is it they want? What is their relationship? How have they ended up in this remote section of Colorado and where are they going when they leave?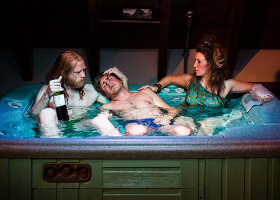 L-R: Paul Thureen, Chris Lowell and Hannah Bos. Photo by Ben Arons.
Director Oliver Butler, who also developed the show for Ars Nova's company-in-residence, The Debate Society, accentuates the script's inherent suspense with the help of Bradley King's lighting and some eerie voiceovers. But no one appears to have thought of doing much to clarify the often puzzling plot.
Robert and Bo's relationship is much easier to understand. Robert and his ex-wife were child psychologists who documented Bo's life in a book that became a best seller. Since that time life has not gone well for Bo, a wondering ne'er-do-well who has a lot on his conscience; the Elder's marriage has ended in a bitter and quarrelsome divorce; and Bo is estranged from both his parents.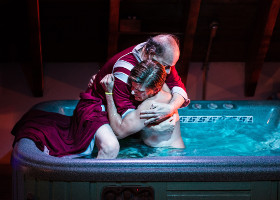 Peter Friedman and Chris Lowell. Photo by Ben Arons.
Not long after Bo arrives, interrupting Helene and Erik relaxing in the Jacuzzi, he lets them know he's at the chalet only because his father, hoping for a reconciliation, has paid him for the visit. And so this might be a touching story of a father and son reconnecting, if it weren't for the overly helpful, clearly manipulative Erik and Helene, who do the shopping, pack items for shipping, and serve food and drinks while they listen to Bo and Robert recount their troubles.
There's some terrific ensemble acting here. Bos and Thureen are officious and cloying. Lowell's combination of self-pity, doubt and guilt is totally believable. And Friedman keeps Robert clueless but strangely sympathetic.
Hannah Bos and Peter Friedman. Photo by Ben Arons.
Erik and Helene's private conversations reveal their eager servility is merely a show. But who is actually running this show? People who have read Herman Melville's "Benito Cereno," a novella about a slave uprising, will recognize what may be going on here. Or maybe not.
For those who care more about suspense than reality, Jacuzzi will seem just fine. Others may wish we could resurrect Alfred Hitchcock for a satisfactory ending.
There's something horrible going on in this house with that great big Jacuzzi. But what it is we can't fathom.