"Under My Skin" Proves Laughter Is Good Medicine

Under My Skin
Directed by Kirsten Sanderson
Little Shubert Theatre
422 West 42 Street
Opened: May 15, 2014
Tickets: $47- $97 (212) 239-6200
Tues.- Fri. at 8pm, Sat. at 2pm & 8pm, Sun. at 2pm &7pm
Closes: July 6, 2014
Reviewed by Paulanne Simmons, May 24, 2014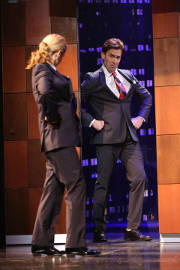 Photo by Joan Marcus.
This has been a season with at least two Broadway shows about men who want to be or pretend to be women. In "Hedwig and the Angry Inch," Neil Patrick Harris has received great acclaim for his portrayal of a transgender rock singer from East Berlin. "Casa Valentina" is Harvey Fierstein's take on a Catskill retreat that catered to heterosexual men who who spent their vacations dressing and behaving like women.
But interestingly, neither of these shows explores what it is actually like to be a real woman. Now, along comes another show that is also about role reversals but gets into the nitty gritty of what life is like for many women in the 21st century.
There's no doubt that Robert Sternin and Prudence Fraser's "Under My Skin" is a comedy and a farce that often descends into sheer silliness. What else should we expect from a writing team that has earned a name for itself in primetime television ("Who's the Boss," "The Nanny")? And director Kirsten Sanderson certainly keeps the action moving and the laughs coming. But through the laughter we discover some very real truths about some very important women's issues, most specifically, healthcare.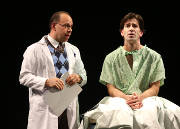 Photo by Joan Marcus.
In "Under My Skin," a near death experience results in wealthy health insurance executive and bachelor Harrison Baddish III (Matt Walton) exchanging bodies with his employee, single mom Melody Dent (Kerry Butler). Melody gets to live in Harrison's penthouse apartment. Harrison now has the responsibility of caring for a teenage daughter (Allison Strong) and aging father who suffers from dementia (Edward James Hyland).
However, it is when Harrison discovers that the body he is inhabiting is seriously ill and can be treated only in a way provided by the medical coverage Melody can afford and he has offered, that he really begins to understand this woman's plight.
Photo by Joan Marcus.
The sad story is told in broad strokes of good humor and an exhilarating touch of the ridiculous. This is to a great extent thanks to Butler and Walton's hilarious interactions. But Megan Sikora as Nanette, Melody's freewheeling best friend, Hyland as her confused but always adamant father and Dierdre Friel as an inept and outrageous angel who may have an agenda contribute enormously to the mirth.
"Under My Skin" will get under the skin of some people, most certainly critics who have intellectual pretensions. And, in truth, many of the jokes are dated and corny. Nevertheless, excellent acting and the underlying truth of its message make "Under My Skin" a comedy for and of our times.