"Since Africa" Takes a Look at a Distant Land - and Our Own
Kristin Carpenter and Matthew Murumba. Photo by Jenny Anderson.
Since Africa
Directed by Nancy Robillard
The Red Fern Theatre Company at The Theater at the 14th Street Y
344 E. 14 St. between 1st and 2nd Ave
Opened Feb. 23, 2014
Thursdays through Saturdays at 8pm, Sundays at 3 with an added performance on Monday, March 3 at 7pm
Tickets: $20 (212) 352-3101 or www.theatermania.com
Closes March 9, 2014
Reviewed by Paulanne Simmons Feb. 28, 2014

During the Sudanese civil war that lasted from 1983 until 2005, tens of thousands of Dinka and Nuer boys fled their native villages and trekked hundreds of miles, first to Ethiopia and later to Kenya, where aid workers nicknamed these children the Lost Boys. In 2001 over 3,000 of the Lost Boys were resettled in cities across the United States.
"Since Africa," a new play by Mia McCullough, tells the story of Ater Dhal (Matthew Murumba), one such lost boy who ends up in Chicago, where he is sponsored by a local Catholic parish and Diane MacIntyre (Jennifer Dorr White), a recently widowed socialite. The play is produced by Red Fern Theatre, a company created in 2006 with the goal of presenting plays that "provoke social awareness and change, addressing social issues that range in scope from local to global." It is well-directed by Nancy Robillard.
What makes "Since Africa" especially moving and relevant is the way it shows how much we are helped when we help others. Diane is not only dealing with the loss of her husband but also the emotional volatility and resentment of her college-age daughter, Eve (Jenny Vallancourt). The rescue program is directed by Reggie Hudson (Elton Beckett), an African-American deacon who has not yet come to terms with his own heritage.
Diane and Eve do not agree on how they should proceed with their lives after the death of Mr. MacIntyre. Nor do Diane and Reggie agree on what is best for Ater. But there is something healing about Ater's presence that helps those closest to him confront their problems.
Ater sees American culture from an entirely new and sometimes astonishing prospective. He does not understand why his co-workers at the hotel are lazy and careless on the job. He sees gang members as warriors. He comprehends multiple but not successive marriage.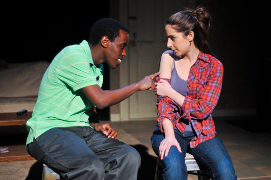 Matthew Murumba and Jenny Vallancourt. Photo by Jenny Anderson.
"Since Africa" is a trim play with sharp dialogue that gets right to the point. Murumba is a very talented actor who very effectively portrays Ater's strengths and vulnerability. His interactions with White and Vallancourt are touching and believable.
The only discordant note in the show is the inclusion of a character called "Nameless One" (Kristin D. Carpenter). Who is this person who dances silently through many scenes? Is she the spirit of Africa? Is she the statue in the garden brought to life? What does she tell the audience that has not been very well communicated by the actors? There's nothing wrong with Carpenter, but her talents would be better put to use elsewhere.
Despite this distraction, "Since Africa" remains an important play about a complicated subject. And in the end, that subject is not so much Africa, a place most of us know little about, as America, a place we think we know.