"Born with Teeth" Bites off More than It Can Chew
"Richard III: Born with Teeth"
Directed by Ron Russell
Pershing Square Signature Center
480 West 42 Street
From April 16, 2013
Wednesdays, Thursdays and Fridays at 7:30pm and Saturdays at 8:00 pm.
There is an additional performance on Tuesday, April 16 at 7:30 pm and the show is dark on Thursday, May 2
Tickets: $25, Student Rush tickets $10 at the box office.(212) 270-4200 or www.Ticketcentral.com
Closes May 4, 2013
Reviewed by Paulanne Simmons April 18, 2013

Richard (James Wallert) implores Lady Anne (Carra Patterson): She must kill him or marry him. Photo by Steven Boling.
In "Richard III," William Shakespeare chronicles the evil deeds of the murderous king on his way to the throne. The second longest of Shakespeare's plays ("Hamlet" is the longest), "Richard III" is rarely performed unedited. In "Richard III: Born with Teeth," Epic Ensemble also considerably alters the play, but in a way that renders it almost unrecognizable.
"Born with Teeth," places the drama in a contemporary setting. The men wear suits and carry cell phones and computers. This is not especially unusual, as these days, Shakespeare's plays are set in many different times and places.
The real problem is that, under Ron Russell's direction, "Born with Teeth" turns a serious exploration of the workings of evil, the nature of political power and the rise of the Tudor dynasty into a farce that panders to our lowest expectations of humor.
When the action of "Richard III" begins, Edward IV is on the throne. But Edward is growing older and sicker, and his younger brother, Richard, sees this as an opening to fulfill his own ambitions. However, a great many people stand between him and the kingship, and Richard must get rid of them.
In a flashback to Henry VI, Part III, Margaret (Lanna Joffrey) mourns the death of her son, while behind, Lady Anne (Carra Patterson) overlooks the body of King Henry (Devin E. Haqq).Photo by Steven Boling.
King Edward has two young sons, Prince Edward, the crown prince, and the young Duke of York; and a daughter, young Elizabeth. Their mother is Queen Elizabeth, who has powerful kinsmen who will try to protect her and her children. Richard's elder brother, Clarence, also blocks Richard's road to power. And finally, Henry Tudor, the Earl of Richmond, a descendant of a secondary branch of the Lancasters, believes he has a claim to the throne and has been gathering forces overseas.
Shakespeare's Richard is a complex figure. True, in many ways he is the embodiment of evil. After all, when Shakespeare wrote this play, Elizabeth I, the granddaughter of Henry VII, was queen, and Henry VII was the very king who overthrew Richard. There is much evidence, that as a playwright and businessman, Shakespeare certainly knew which side his bread was buttered on.
But Richard is also a complex character. He can be charming and seductive, convincing even people who should know better to go along with his plans. He is sensitive about his physical deformity.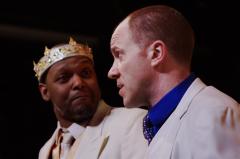 King Edward IV (Godfrey L. Simmons, Jr.) is stunned by the news from Richard (James Wallert) of Clarence's death. Photo by Steven Boling.
James Wallert, who plays the lead in "Born with Teeth," makes Richard more of a clown than a villain. He grins, he growl, he snarls, he chuckles. If he had a mustache he would most assuredly twirl it. His antics make it difficult to take the play seriously. Is this a comedy about a king who kills a lot of people?
Devin E. Haqq as Catesby looks and acts more like a Mafia enforcer or perhaps a pimp than councillor to the king. James Joseph O'Neil's Lord Buckingham, Richard's great ally, is Karl Rove on a really bad day.
The actors who are most successful are those who give the most thoughtful interpretations: Peter Jay Fernandez as Hastings, Lanna Joffrey as Margaret, Carra Patterson as Lady Anne and the excellent Melissa Friedman as Elizabeth.
The comedy ends the night before the battle when Richard has a frightening dream in which he is cursed by the ghosts of all the people he has murdered. The following morning, Richard is killed, subdued by four of his enemies (for a one-armed man, he's a pretty good fighter).
This is the best scene in the play. A handkerchief is stuffed in Richard's mouth. He finally shuts up.