"Thoroughly Modern Millie" Still Sparkles
After Over a Decade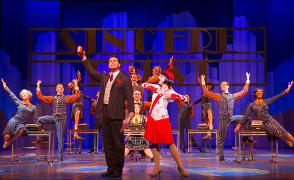 "Thoroughly Modern Millie" at Paper Mill Playhouse: (L-R) Burke Moses (Trevor Graydon), Laurie Veldheer (Millie) and the Company of Thoroughly Modern Millie. Photo by T. Charles Erickson.
Thoroughly Modern Millie
Directed by Mark S. Hoebee
Paper Mill Playhouse
22 Brookside Drive, Millburn, NJ
From April 10, 2013
Wed. at 7:30pm, Thurs. at 1:30pm & 7:30pm, Fri. at 8pm, Sat. at 1:30pm & 8pm, Sun. at 1:30pm & 7pm
Tickets: $26 - $97 (973) 376-4343 or www.papermill.org
Closes May 5, 2013
Reviewed by Paulanne Simmons April 14, 2013

"Thoroughly Modern Millie," a musical based on the 1967 film of the same name, with music by Jeanine Tesori, lyrics by Dick Scanlan and a book by Richard Morris, opened on Broadway in April 2002. It won six Tony awards, including Best Musical. After seeing the revival at Paper Mill Playhouse, directed by Mark S. Hoebee, it's easy to see why.
At first, "Thoroughly Modern Millie" seems hopelessly politically incorrect. One might well ask, do we really need a show that capitalizes on stereotypes of Asian Americans, that promotes women marrying for money, that sees wives as dependent on a husband, that considers stenography as a woman's highest calling? But by the end of the show, it becomes obvious how subversive the "Thoroughly Modern Millie" really is.
The year is 1922. It's the time of flappers and speakeasies. Millie Dillmount (Laurie Veldheer), has just arrived in New York City, determined to get a job and marry her rich boss. In the meantime she moves into the sleazy Hotel Priscilla, where the proprietress, Mrs. Meers (Lenora Nemetz), has a side business of kidnapping orphaned young ladies and selling them to white slavers, with the help of two Chinese immigrants, Ching Ho (James Seol) and Bun Foo (Billy Bustamante).
Millie also (literally) bumps into Jimmy Smith (Jeff Kready), a handsome man-about-town who says he earns his living by selling paper clips, and becomes friends and roommates with the wealthy Miss Dorothy Brown (Ashley Kate Adams), who wants to learn about life in the big city. Millie seems on the way to fulfilling her dream when she lands a job at Sincere Trust, where her boss, Trevor Graydon III (Burke Moses), appears to be a likely candidate for matrimony.
Eventually Jimmy introduces Millie to the famous singer Muzzy van Hossmere (Brenda Braxton). After several more plot twists and any number of fantastic song and dance numbers, Muzzy teaches Millie about what's really important in life and all the major characters find true love.
If all this sounds fairly tame, bear in mind that Muzzy van Hossmere is an African American woman and something more than just a friend of Jimmy, and that not all the characters end up with people of their own ethnicity.
The Paper Mill Playhouse production is blessed with terrific leads and supporting cast members. Veldheer is a bouncy belter. Adams has a strong, operatic voice. Braxton is a sexy jazz singer who can really move. Nemetz is hilariously evil. And Seol and Bustamante are lovable rogues whose Chinese/English songs, particularly their rendition of "Mammy," are sidesplitting.
All of these people (plus the excellent ensemble) are clothed in color-coordinated costumes that are influenced by Roaring Twenties style and reflected in the Art Deco architecture of the set by Michael Schweikardt). And Denis Jones's choreography, from tap to Charleston is exhilarating and brilliantly integrated into the show.
In this musical, Millie tries to be thoroughly modern and fails thoroughly. The show, however, gives us a glimpse into the past and seems thoroughly up-to-date.