"Southern Discomfort" Explores the Land that Gave Birth to the Blues
"Southern Discomfort"
Directed by Daniel Zimbler
Soho Playhouse
15 Vandam Street
Opened March 25, 2013
Mondays at 8pm
Tickets: $20 (212) 291-1555 or www.sohoplayhouse.com
Closes May 27, 2013
Reviewed by Paulanne Simmons April 1, 2013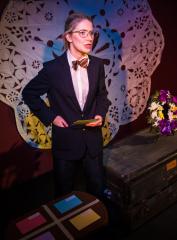 Photo by Rick Gilbert.
It may well be that the American South has no more weirdos than any other place in the country. There are just more authors writing about them. Add to that long list Elisabeth Gray, whose one-woman show, "Southern Discomfort" brings to life the same kind of characters we have come to love and hate in the works of Flannery O'Connor, Carson McCullers and William Faulkner.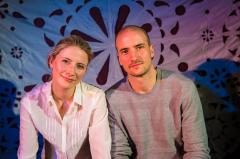 Photo by Rick Gilbert.
In "southern Discomfort" we meet a teenage boy who lost his hand in a firearms accident selling Civil War reenactment weaponry at his family's gun stall. We hear a middle-aged woman deliver a speech to the Olive Branch Mississippi Women' Historical Society, on the induction of the first black woman. We watch a 63-year-old man eulogize an unloving wife he met when she crashed into his car.
The Soho Playhouse has a small, no frills stage downstairs, best suited for cabaret. But Gray, with the help of director Daniel Zimbler, uses this intimacy to her advantage. Although Gray is always speaking to an invisible person or persons, it often feels as if she is speaking directly to the audience.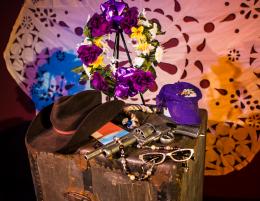 Photo by Rick Gilbert.
In "Southern Discomfort," the audience is brought into the play and becomes part of the bizarre story. Even when Gray changes clothing onstage, the illusion is not broken. Much of this is due to Gray's extraordinary acting skills.
Gray, a southerner by birth, clearly knows the people she is portraying, or at least people very much like them. Even better she takes them very seriously. The audience may laugh. Gray does not.
The people Gray portrays are sometimes racist, frequently self-absorbed and always foolish. Although there is a touch of the stereotype about them, Gray goes beyond the surface to the suffering that lies below the familiar image. What emerges is the humanity we all share.