The Pearl's "Henry IV, Part 1" Recounts History, But Doesn't Try to Make It
"Henry IV, Part 1"
Directed by Davis McCallum
The Pearl Theatre Company
555 West 42 Street
Opened March 3, 2013
Tickets: $65, $35 seniors, $20 student rush, $20 Thursday rush
pearltheatre.org or (212) 563-9261
Closes: March 17, 2013
Reviewed by Paulanne Simmons, March 7, 2013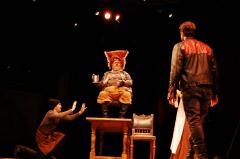 John Brummer and Dan Daily. Photo by Phillis Kwentoh.
It's a well-known fact that Shakespeare, a canny businessman, wrote his history plays to flatter his royal patrons. But because he was a supreme artist, the Bard did much more.
Thus "Henry IV, Part 1" is not only the story of the triumph of Henry Bolingbroke, now King Henry IV, over his insurgent enemies led by Henry Percy "Hotspur"; his father, the Earl of Northumberland; and his uncle Thomas Percy, Earl of Worcester. It is also about how Henry's son, young Prince Hal, in apparent thrall to the the wily and dissolute Falstaff, reconciles with his father and accepts his responsibility.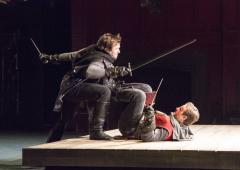 L-R: Shawn Fagan, John Brummer. Photo by Al Foote III.
The Pearl's production is part two of the company's plan to present the cycle known as the Henriad. It is directed by Davis McCallum, who helmed the widely acclaimed Sam Hunter play, "The Whale," at Playwright's Horizons; and it features John Brummer as Prince Hal, Bradford Cover as King Henry, Shawn Fagan as Hotspur and Dan Daily as Falstaff.

Blessed with a large stage in the Pearl's new home on 42nd Street, McCallum is able to give the drama it's full epic scope, especially in the fight scenes. There's ample room for the king's court, the bawdy bar, where Falstaff holds his own court, and the battlefield where the fate of the kingdom is decided.
L-R: Shawn Fagan and Lee Stark. Photo by Al Foote III.
Most of the characters are dressed in period clothing, except for Prince Hal, who wears jeans and a leather jacket. This seems to fit his swaggering personality, but is somewhat out of place in an otherwise traditional production.
The real standout here is Daily as the scene-stealing Falstaff. He is every inch the philosopher rogue. However, he could have created a bit more sympathy if he had been more thoughtful or more ridiculous, or perhaps just more human.
Brummer is convincing as the future king who is not quite ready for the throne and Fagan is a good foil as the good son, if a little too righteous. Cover is appropriately wracked by fear of the future and guilt over the past.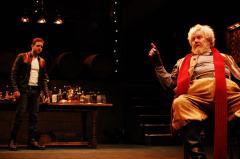 Michael Irish, Dan Daily and John Brummer. Photo by Phillis Kwentoh.
This is a spare production, with considerable doubling (and sometimes more than that) of roles. For those not familiar with the play, this may cause some confusion.
There are no new insights here, just a solid production. But by the end, when the swords are flying and the bodies falling, most of the audience is fully engaged in the action, pleased with the triumph of Henry and his young son, as must have once been Shakespeare's royal patrons.