"Children of Paradise" Takes Us Back in Time through Mime
"Children of Paradise"
Written and directed by Richmond Shepard
Theater for the New City
155 First Avenue
Opened Feb. 7, 2013
Thurs. thru Sat. at 8pm, Sun. at 3pm
Tickets: $25 (212) 868-4444 or www.smarttix.com
Closes Feb. 24, 2013
Reviewed by Paulanne Simmons Feb. 9, 2013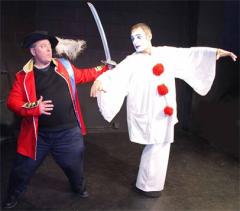 Photo by Nicholas Wolfson.
When people think of French mimes, the first name that comes to mind is Marcel Marceau, most famous for his portrayal of Bip the Clown. But long before Marceau, Jean-Gaspard Debureau, at the beginning of the 19th century, turned mime into a popular art form. His major contribution was to make the Commedia dell'arte character, Pierrot, or the sad clown, a central character in mine, replacing the traditional Harlequin, or comic clown.
Debureau performed at the Theatre des Funambules, which was the inspiration for Marcel Carné's 1945 film, "Children of Paradise," a fictionalized version of the theatre and Debureau's role in it. More recently the Funambules and the life of Debureau has become the inspiration for Richmond Shepard's staging of The "Children of Paradise."
Unlike the film, this "Children of Paradise" tells the real story of Debureau's life. Shepard skillfully intertwines mime pieces, which were written down by his son 170 years ago, and episodes in the mime's life: his marriage, his affairs, his arguments with an unappreciative and cheap theater owner.
The conception of this unique theater experience is truly exceptional. With a cast of 14 mimes, actors and gymnasts, and the musical direction of Harrison Wade, Shepard takes the audience into the seedy world of French popular theater. The mime pieces are fascinating, funny and sometimes quite moving. Many people, who have never heard of Debureau, will be reminded of Charlie Chaplin's iconic Tramp.
The show does not do as well when the actors' are actually called upon to speak. This does not seem to be the fault of the direction or the script. Unfortunately, "Children of Paradise" suffers from the same problems that beset many low-budget ventures. The show lacks a major talent who could really capture the audience's imagination.
Debureau is played by Chris Douros. When he mimes leaning against a wall, we can actually see the invisible wall. When he moves, his body is flexible and expressive. When he speak, the dialogue comes out wooden and memorized.
Yet, as a whole, the production has much to admire. Under Shepard's excellent direction, we not only see mimes running in place or sweeping the floors, we also see gymnasts and acrobats leaping, turning cartwheels and jumping over each other. This is a vigorous and demanding show.
But we don't see great acting. As a result, the mime shows within "Children of Paradise" are much more interesting than the show itself. It would be nice if some backers with deeper pockets recognized the merit in this production and supplied it with the funds necessary for a top-notch cast, plenty of rehearsal time, and sets and lighting that would really bring the show to life.