The Exonerated Have Their Say One More Time
The Exonerated
Directed by Bob Balaban
Culture Project
45 Bleecker St. at Lafayette St.
Opened Sept. 19, 2012
Tues. thru Thurs. at 8pm, Fri. at 7pm, Sat. at 8pm & Sun. at 3pm and 7pm, no performance Thurs. Sept. 20
Tickets: $37.50 - $75, student tickets $30 (866) 811-4111 or cultureproject.org
Closes Nov. 4, 2012
Reviewed by Paulanne Simmons Sept. 23, 2012
Brian Dennehy, Delroy Lindo and Stockard Channing in the 10th anniversary production of "Exonerated." Photo by Carol Rosegg.
Ten years ago, Culture Project's "The Exonerated," a documentary/theater hybrid thundered onto the stage with its six stories of men and women who had been unjustly sent to death row. Now Culture Project is marking the 10th anniversary of the show with a 7-week revival directed by Bob Balaban, and it is just as affecting and relevant as ever.
Jessica Blank and Erik Jensen wrote the show, based on interviews, letters, transcripts, case files and public records. The testimonies given by the exonerated and their loved ones have the ring of truth and the poetry of theater.
The six victims are Gary Gauger, a Midwestern organic farmer who was brainwashed into believing he murdered his parents; Robert Earl Hayes, an African American horse groomer who was released when it was revealed that the attacker had to be white; Sunny Jacobs a hippie who got involved with the wrong people; David Keaton, who went to jail at the age of 18; Delbert Tibbs, the play's poet and philosopher, who was in a different state when the crime was committed; and Kerry Max Cook, who was tortured for 22 years by fellow inmates who believed he was gay.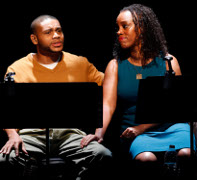 JD Williams and April Yvette Thompson as the Hayes couple.Photo by Carol Rosegg.
The production features a cast of six full-time actors and nine actors who rotate in four roles. The night I saw the show Stockard Channing was a powerful presence as the bewildered and deeply wounded Sunny. Channing's performance was validated when the real Sunny Jacobs, who has joined the cast for one week, came onstage after the show.
Similar themes run throughout these stories: incompetent legal representation, racism, corrupt prosecutors and the bad luck to have been in the wrong place at the wrong time. What's more, all but Gauger were convicted in southern states (four of them in Florida). But there is also something fishy about some of these stories that leaves one with troubling questions.
Why were the police so convinced that these innocent people were guilty? Why did some of them confess to crimes they did not commit? Is there something left out of their stories? A little research reveals that the real Robert Hayes pleaded guilty to manslaughter and arson in a 1987 rape and murder in New York and is now serving 15 to 45 years. Sunny Jacobs, who most probably was involved to some degree a double murder, was not exonerated; in 1992 she plead guilty to second degree murder and was released on time served.
However, none of this takes away from he message of the production. Our legal system is not perfect and death is irreversible.