Welcome Back "Forbidden Broadway"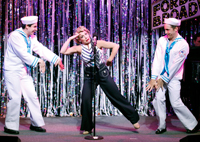 FORBIDDEN BROADWAY -- Marcus Stevens, Jenny Lee Stern and Scott Richard Foster in Gerard Alessandrini's "Forbidden Broadway: Alive and Kicking," now playing at the 47th Street Theatre, 304 West 47th Street. Photo by Carol Rosegg.
Forbidden Broadway Alive and Kicking!
Directed by Phillip George and Gerard Alessandrini
47th Street Theatre
304 West 47th Street
Opened Sept. 6, 2012
Tues. thru Sat. at 8pm. Sun. at 7:30pm matinees Wed. and Sun. at 2pm
Tickets:$29-$79 premium $110 (212) 239-6200 or telecharge.com
Closes Jan 6, 2013
Reviewed by Paulanne Simmons Sept. 13, 2012
Gerard Alessandrini's much adored "Forbidden Broadway" has been lampooning Broadway and its stars ever since 1982. After a three-year hiatus, the show has returned, and "Forbidden Broadway Alive and Kicking!" is just as biting and hilarious as its predecessors.
But, aside from talented performers and clever songs, what accounts for this show's popularity? The simple truth is that Broadway fans like nothing better than seeing the Great White Way teased and mocked. And nobody is doing it better this season than Alessandrini (who directs with Phillip George), aided by his musical director David Caldwell.
The show stars Natalie Charlé Ellis, Scott Richard Foster, Jerry Lee Stern and Marcus Steven. These incredible mimics (there's Patti Lupone, Bernadette Peters, Audra McDonald, Matthew Brodrick and Steve Kazee, among others) bulldoze their way through Broadway, past and present, demolishing everything in sight. They have great timing, great voices and great fun.
Alessandrini has an uncanny ability to touch on what is, if not always the total truth, at least the consensus about shows, both successful and flops. Most Broadway aficionados would agree that "Nice Work" is carried by its supporting actors, "Mary Poppins" and "Newsies" are overly sweet and "Once" has more sentimentality than story.
Alessandrini certainly has a way with words. There's "Book of Morons" and an elderly "Annie" renamed "Grannie." In the spoof on "Marry Poppins," a favorite with suburban audiences, Ellis sings "Feed the Burbs." And one of the highlights of the evening is Stern imitating Tracie Bennett imitating Judy Garland, singing "You Made Me Looney."
There are also visual gags: a puppet Spider-Man flying through the air. Bess (Ellis as Audra McDonald) dropping her baby, snorting dope and then kicking the infant out of the way. And how about one-liners like the Jersey Boys singing, "Walk like a man/sing like a girl."
As is the case with most comedy, the secret (or not so secret) ingredient is cruelty. We are told that many stars are fans of the show. But it's hard to see how Bernadette Peters enjoys being informed she's losing her voice or Matthew Broderick appreciates learning he can neither sing nor dance.
The truth is Broadway disappoints us almost as much as it thrills us. But that doesn't mean that we stop going to or loving the theater. But there are times when we cannot help but groan at missteps and missed opportunities. "Forbidden Broadway Alive and Kicking!" celebrates Broadway, warts and all, and allows us to laugh until it hurts.