TWO VIEWS OF "MARY BROOME"
Reviewed by Paulanne Simmons
Reviewed by Glenda Frank
---
Mary Broome
Directed by Jonathan Bank
Mint Theater
311 West 43 Street
Tues. thru Thurs. at 7pm, Fri. & Sat. at 8pm, 2pm matinees Wed. 9/19 & 10/19, Sat. & Sun.
Closes Oct. 21, 2012
Tickets: $55-$27.50, (866) 811-4111; http://minttheater.org
Reviewed by Paulanne Simmons Sept. 8, 2012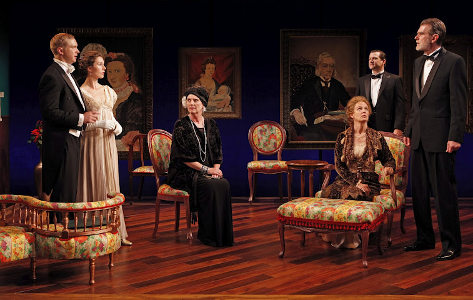 "Mary Broome" at the Mint Theater: Roderick Hill, Janie Brookshire, Jill Tanner, Kristin Griffith, Rod Brogan and Graeme Malcolm. Photo by Carol Rosegg.
One of the most interesting facts about playwright Allan Monhouse is the dearth of information about him. Even the Encyclopedia Britannica (printed version) failed me.
Yet according to Mint Theater, which is currently reviving his 1911 comedy "Mary Broome," the playwright "was a dramatist, novelist and critic known for his piquant portrayal of middle class life in northern England," and "Mary Broome," which premiered at Manchester 's Gaiety Theatre and moved to London, was hailed by The Guardian as "a remarkable piece of work." What's more, The Observer compared its style to that of no less a literary luminary than George Bernard Shaw.
Ah, the ravages of time!
Although it's easy to see that Monkhouse is no Shaw, the Mint production, directed by Jonathan Bank (the Mint's artistic director), does make a good case for why this play should not be forgotten, as it does for so many worthy but neglected plays. The comedy is witty and pithy and makes comments about the rich and the poor which should not be lost on us today.
The two rather unwilling lovers in this play are Mary Broome (Janie Brookshire), who is a maid in the Timbrell household and Leonard Timbrell (Roderick Hill) the wastrel son who has gotten her pregnant. If dress and manners would not be enough to indicate the difference in their positions, Roger Hanna has designed an elegantly Edwardian parlor (complete with satiric portraits of the ancestors ) for the Timbrell's; one can only imagine what the home Mary was raised in must have looked like.
Contrary to all expectations, Leonard's father, Edward (Graeme Malcolm) insists his son "make an honest woman" out of Mary. His mother (Kristin Griffith) can do little more than ring her hands. But Leonard is a cad, and despite our most fervent wishes, this alliance cannot have a happy ending.
So what makes "Mary Broome" a comedy? At times, considering the dark nature of the events in this play, it's hard to tell. Yet, much of the repartee between Leonard and his father, or Leonard and his brother, Edgar (Rod Brogan), is quite funny. And we always have a good time watching the wealthy make fools of themselves, as they undoubtedly do in "Mary Broome." In fact, Leonard's sister Ada (Katie Fabel), and brother Edgar and his fiancee Sheila Ray (Julie Jesneck) all do this quite well.
Not that the poor are particularly admirable. Mary's father (Douglas Rees) and mother (Jill Tanner) show little interest in their daughter or their ailing grandchild when they come for a visit. In fact, their visit seems to have been motivated more by duty than love. But Mr. Broome's misunderstanding of the circumstances surrounding the marriage (he believes Leonard has defied his father) are a source of amusement.
Brookshire's Mary is properly humble, but she also has spunk and a welcome honesty in this house of hypocrisy. Hill has a tougher job; despite Leonard's glib tongue, the man is utterly despicable. Hill does get us to smile at Leonard's wit, but we soon scorn his actions.
Although Mary and Leonard are the central characters, one could make a good case that Mr. and Mrs. Trimbell are far most interesting. Both surprise, Mr. Timbrell in his inexplicable sense of justice and responsibility and Mrs. Timbrell in her unexpected and quiet strength. And both Malcolm and Griffith give full rein to their characters' quirkiness.
Comedies of manners do not always travel well through time. But in this case, a hard-working cast and masterly direction turn a forgotten piece into something well worth remembering.
---

"Mary Broome" by Allan Monkhouse.
Directed by Jonathan Bank.
At the Mint Theater Company, 311 W. 43 St., 3rd floor, NYC.
August 18 to October 21, 2012.
Tuesday through Thursday at 7 PM, Friday at 8 PM, Saturday at 2 PM & 8 PM, and Sunday at 2 PM.
Tickets are $27.50 to $55. 866-811-4111 or <http://minttheater.org>.
By Glenda Frank

Like most Mint Theatre plays, "Mary Broome" is packed with surprises. Now at the Mint Theater through Oct. 21, the 1911 play by Allan Monkhouse places a socially invisible woman, a young servant girl (Janie Brookshire) , center stage, mostly silent and in disgrace. Leonard (Roderick Hill), the handsome ne'er do well son of the prominent Timbrell family, has had his way with her and now hopes that his family will do the right thing since he has no prospects and no intent of earning his own living. Despite the caricature portraits of the family elders that line the day-glow walls of the traditionally furnished living room (Roger Hanna, set; Joshua Yocom, props), the opening scene seems pretty ho-hum. Edgar (Rod Brogan), the righteous brother, his very proper bride-to-be (Julie Jesneck), and the prim little Timbrell sister (Katie Fabel) bluster about, scandalized.
But Papa Timbrell (Graeme Malcolm), who spends a considerable amount of timing barking out patriarchal orders, has a few tricks up his sleeve to punish his wayward son. Leonard, he informs his son, will become a decently married man or his allowance will be cut. Leonard thinks it a joke, Mary wants the floor to swallow her whole, and the family is aghast – all of which convince Papa to push the plan. Do you want to marry Leonard? asks Mama Timbrell. Well, I want to marry someone, Mary replies. Her working class family has standards – an observation that seems to astonish the Timbrells. And so Act I ends with a proposal and an acceptance.

The big surprises are over but the little ones are delicious. Mary turns out to be a winning character in her own right, honest and struggling to make the best of a confusing deal. She is our anchor. Leonard is a charismatic rake, a spark plug with a silver tongue, he keeps us interested through all the conventional pontificating. He's an early version of Osborne's Jimmy Porter, refusing to make an effort because it's all so pedestrian and dull. He's self-involved, fascinated by each new idea that springs fully blown from his mind. He floats so far about the ground that nothing touches him, not even his son's illness or his own poverty after his father cuts him off yet a second time. When he decides to pawn his mom's brooch for a fishing trip with the boys and mom (Kristin Griffith) hands the brooch over, we know the score.

Allan Monkhouse turns the tables one last time in a double twist that's half expected, half surprise, and it all sorts out at the end – for Mary and for us, the audience. "Mary Broome" is not a near-great play like others in earlier Mint seasons, but it offers many delights and an evening of solid, satisfying theatre.

Jonathan Bank directs his expert cast with a sure hand in this first New York revival. There are winning performances everywhere – the visit of Mary's parents (Peter Cormican and Jill Tanner) who don't care about her wedding ring; they want to see the certificate. Mrs. Greaves (Patricia Kilgarriff) is the cleaning woman, torn between anger at not being paid and compassion for the young couple with a sick child. Mr. Bank keeps the touch light -- with joy in the word play. The character of Leonard is an inspired creation, and Roderick Hill's performance is electric. Janie Brookshire, who was last seen in "The Wife of James Whelan, " knows how to play quiet characters and when to dominate the stage. The Mint Theatre just keeps getting better.