There's Magic in "Potted Potter: The Unauthorized Experience"

Daniel Clarkson and Jefferson Turner in "Potted Potter."
Potted Potter: The Unauthorized Harry Potter Experience
Directed by Richard Hurst
Little Shubert Theatre, 422 West 42 Street
From May 19, 2012
Tues. at 7pm, Wed. at 2pm and 7pm, Thurs. at 7pm, Friday at 8pm, Sat. at 2pm (Please Note: David Amhad and Richard Atwill perform on Saturdays at 2pm) 5pm and 8pm
Sun. at 2pm and 5pm
Tickets: $39.75 - $69.75 (212) 239-6200
Closes: Aug 12, 2012
Reviewed by Paulanne Simmons June 31, 2012

It helps if you're a Muggle who knows how to play quidditch, but you don't need to have read all seven of the Harry Potter books to enjoy Daniel Clarkson and Jefferson Turner's parody, "Potted Potter: The Unauthorized Experience." In fact, the show, which Clarkson and Turner wrote and perform, directed by Richard Hurst, condenses all seven of the Potter books into 70 minutes of madcap fun.
The main source of comedy, however, is not so much the books as the relationship of the two performers, known as Dan and Jeff. The two young men are constantly bickering and disagreeing on how too proceed. One has spent the entire budget on a magnificent dragon that never appears. Another does not like the allotment of roles. One has been remiss in reading all the books and is hurriedly sent backstage to catch up on book seven.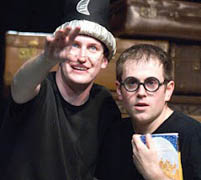 Daniel Clarkson and Jefferson Turner in "Potted Potter."
For this reviewer (not a Potter expert), the best parts of the show were those in which the actors interfaced with the audience. A game of quidditch divided the audience into teams, with players hitting a large inflated ball (a bit like in volleyball) in order to get it into neon light hoops on either side of the house. As the ball was in the air, non-players cheered their team on, while two adorable children who had been called onto he stage helped out, as well.
There are plenty of jokes to make the little ones go "ugh" and enough sophistication to keep the adults engaged. For the truth is this comedic duo is well in the tradition of comedy teams that have kept us laughing for decades, complete with physical and verbal abuse, corny jokes and pratfalls.
Even those who have slept through a few Potter movies will be wide awake throughout this fast-paced show. So bring a kid or gab a kid and get yourself to the Little Shubert for an experience that is not to be missed.