Another Home Run for "Damn Yankees"
Damn Yankees
Directed by Mark S. Hoebee
Paper Mill Playhouse
22 Brookside Drive, Millburn, NJ
Opened March 7, 2012
Wednesday: 7:30pm, Thursday: 1:30pm & 7:30pm, Friday: 8:00pm, Saturday:1:30pm & 8:00pm, Sunday: 1:30pm & 7:00pm
Tickets: $25-$96 (973) 376-4343 or www.papermill.org
Closes April 1, 2012
Reviewed by Paulanne Simmons March 11, 2012
Damn Yankees at Paper Mill Playhouse, Photo by Ken Jacques, TheWashington Senators.
Based on Douglass Wallop's novel, The Year the Yankees Lost the Pennant, the musical "Damn Yankees," with a book by George Abbott and Wallop and music and lyrics by Richard Adler and Jerry Ross, was a huge success in 1955, running for 1,019 performances.
The musical is about what happens when the hero, Joe Boyd, makes a deal with the devil so he can win the pennant for his home team, the Washington Senators. This modernization of the Faust legend has proved popular through the decades, with revivals of "Damn Yankees" too numerous to mention.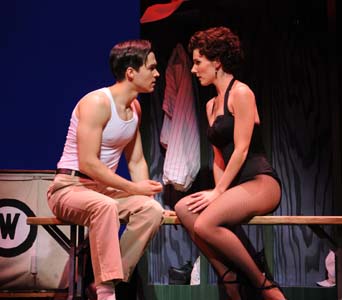 Damn Yankees at Paper Mill Playhouse, Photo by Ken Jacques, NancyAnderson (Center) and the Washington Senators.
The latest revival at Paper Mill Playhouse, directed by Mark S. Hoebee, enthusiastically delivers the play's hit songs: "Heart," "Whatever Lola Wants," "Two Lost Souls," and many more. The cast is led by Christopher Charles Wood making his Paper Mill Playhouse debut as Joe Hardy, a reincarnated Joe Boyd (Joseph Kolinski). Hopefully, we will see more of Wood in the future.
Patti Cohenour as Meg Boyd highlights the poignancy that is inherent in a story about a man who leaves his wife and home to follow a dream. Whether she is singing "A Man Doesn't Know" with old or young Joe, Cohenour is equally moving.
Jill Abramovitz and Susan Mosher bring the show nicely back to the ridiculous with their over-the-top portrayals of Meg's friends, Doris and Sister. Nancy Anderson is a most spirited and athletic reporter, Gloria Thorpe, with her talents best seen in the show-stopping number, "Shoeless Joe from Hannibal, Mo."
Damn Yankees at Paper Mill Playhouse. Photo by Ken Jacques, Howard McGillin (Applegate).
But of course, in theater, as in life, it is the dastardly evil who capture our imaginations. Some of the most memorable songs in "Damn Yankees" belong to the devil, Applegate (Howard McGillin) and his assistant, Lola (Chryssie Whitehead). McGillin is a Broadway veteran and certainly a fine choice for Applegate. He acquits himself quite well, especially in his tour-de-force, "Those Were the Good Old Days," but he is not quite demoniacal enough to give the role its true force. And Whitehead is lovely and sexy, but a bit too much like the girl next door.
Rob Bissinger's design effectively turns the set into a pleasant home, a baseball team's locker room, the bleachers and back again into that home. For indeed "Damn Yankees," like baseball, is a symbolic retelling of the ancient myth of a man setting out to have an adventure, all the while longing for home, until a sadder and a wiser man, he comes back to where he started from.
But you don't have to be a philosopher or a baseball fan to enjoy "Damn Yankees." You only need an appreciation of good musical theater.