"The Violet Hour" -- It's About Time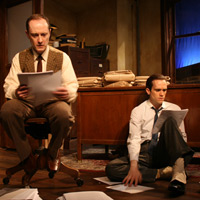 THE VIOLET HOUR -- Andrew Sellon & John P. Keller. Photo by Angela Benefiel
The Violet Hour
Directed by Nathaniel Shaw
The Active Theater
The Workshop Theater
312 West 36 Street
Opened March 2, 2012
Thursday at 7pm, Friday & Saturday at 8pm, matinees Saturday & Sunday at 3pm
Tickets: $18 www.theactivetheater.com or (866) 811-4111
Closes March 25, 2012
Reviewed by Paulanne Simmons March 13, 2012
The Violet Hour, in Richard Greenberg's 2003 eponymous play is that magical moment of a New York City day when the evening turns into night. It's not perfectly clear why the play is called "The Violet Hour," other than that it is indeed about time. But this drama certainly has many of its own magical moments.
The play is about a young publisher named John Pace Seavering who is torn between publishing a novel by his old college buddy, Denis McCleary, and the memoirs of his mistress, an aging African-American blues singer named Jessie Brewster. It's a battle between friendship and lust.
Most of those magical moments happen when the future is revealed by a newly purchased office machine that starts spewing forth pages which turn out to come from some literary work that will be published decades later. These pages reveal the future of Seavering; McCleary and his girlfriend, Rosamond Plinth; Brewster; Seavering's office assistant, Gidger; and even Gidger's dog, Lancelot. Not all of these revelations are pleasant.
The Active Theater's revival of "The Violet Hour," directed by Nathaniel Shaw, starts off on the right foot with a tremendously evocative set designed by Craig Napoliello. The early 20th century office, seen in a perspective with an emphatic vanishing point, is complete with an old record player, antique typewriter and loads of unwrapped manuscripts Seavering has received since he set up shop. The wayward machine is tantalizingly offstage.
John P. Keller is believably young, ambitious and idealistic as the principled but practical Seavering. His rock-solid normalcy provides an effective contrast to the the fantastic events that overwhelm him and the more unstable characters who surround him.
Unlike Seavering, many of the other characters have something to hide, something that is revealed by those mysterious papers. Rosamond (the excellent Heather Lee Harper) is fragile and emotionally unstable. Brewster (Cheryl Freeman) has a past she does not want to explore in her memoirs.
The play is filled with subtle and not-so-subtle homoeroticism. It is never quite clear whether the bond between Seavering and McCleary (Lincoln Thompson) is anything more than that of good friends. And Andrew Sellon often steals the show as the effeminate Gidger, a man who is bursting to come out at a time when men couldn't.
Cheryl Freeman, however, is miscast as the seductive Jesse Brewster. Although Freeman clearly understands who she is supposed to be, she never musters up the sensuous vitality necessary for the part. It's hard to see what has kept Seavering enthralled.
Although most of what happens when the machine starts taking over the office is troubling, there are several comic moments, most provided by Gidger, who begins to speak and behave as the man he might have been had he lived several decades in the future
Greenberg's play, which mixes existentialism, science fiction, comedy and social commentary in a most unique way, provides the kind of challenge this relatively young company (it's 4 years old) needs to cut its teeth on. It was a pleasure seeing the material so well handled.