Paintings and Poetry in "Give Me Your Hand"
"Give Me Your Hand"
Directed by Richard Twyman
The Irish Repertory's W. Scott McLucas Studio Theatre
132 West 22nd Street
Opened March 11, 2012
Wednesday-Saturday at 8pm; plus 3pm matinees on Wednesday, Saturday and Sunday Tickets: $30, 212-727-2737 or www.irishrep.org.
Closes April 1, 2012
Reviewed by Paulanne Simmons March 10, 2012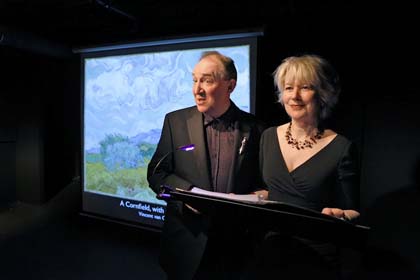 Dermot Crowley and Dearbhla Molloy.. Photo by Carol Rosegg.
Paul Durcan is an Irish poet so little known in the United States I could not even find a Wikipedia reference for him. Yet he is the author of over twenty books and the recipient of the Whitbread Award for poetry. And that's only the beginning.
But those who know the poet are enthusiastic about him. And that's how "Give Me Your Hand" was born. The show, directed by Richard Twyman, features two of Ireland's best known actors, Dermot Crowley ("The Weir," "Translations,") and Dearbhla Molloy ("Dancing at Lughnasa," "A Touch of the Poet"). Together they take an imaginative stroll through London's National Gallery via Durcan's poetic interpretations of some of the Gallery's most famous works.
In the program notes, Crowley explains how after reading and re-reading Durcan's 1994 collection, "Lend Me Your Hand," he began to think the poems in the collection would lend themselves to performance and approached his friend, Dearbhla Molloy: "It turned out that Dearbhla was a huge fan, who possessed and had read everything [Durcan had] ever published, and was extremely knowledgeable about that particular collection. We both agreed the work deserved a wider audience, and thus, with Paul's blessing, the idea of 'Give Me Your Hand' as a performance was born. We rehearsed in each other's houses, we stood enthralled in front of those magnificent paintings in the National Gallery in London, with Paul Durcan's vivid imagination demanding we look at hem anew."
Standing at lecterns at either side of the stage, between them slides of the pictures Durcan is interpreting, Crowley and Molloy guide the audience into rediscovering painters as diverse as Thomas Gainsborough, Vincent van Gogh, Peter Paul Rubens and John Singer Sargent.
We hear the ruminations of the athletes in Edgar Degas' "Young Spartans Exercising." We learn what the maid really thinks of her mistress in Nicolaes Maes's "Interior with a Sleeping Maid and Her Mistress." Sargent's "Lord Ribblesdale" reveals his humble and ironic personality beneath his aristocratic clothing. François-Hubert Drouais's "Madame de Pompadour" tells us what it is really like to be the king's aging mistress. Van Gogh's mother informs us that her son is quite sane, as anyone can see in his "Wheat Field with Cypresses."
"Give Me Your Hand" is a delight to the eye and ear. Crowley and Molloy are magnificent. They bring these poems to life with a warmth and humor only talented performers can achieve. "Give Me Your Hand" is the most literate and lovely show to be staged in a long, long time.