"Russian Transport" Is Sinister and Suspenseful
Russian Transport
Directed by Scott Elliott
The New Group
Acorn Theatre, 410 West 42 Street
Opened Jan. 30,2012
Monday thru Wednesday at 7pm, Thursday thru Sat at 8pm, Saturday matinee at 2pm
Tickets: $60 (212) 239-6200
Closes March 10, 2012
Reviewed by Paulanne Simmons Jan. 28 2012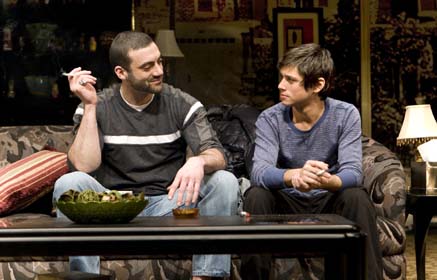 Morgan Spector and Raviv Ullman. Photo by Monique Carboni.
This tight drama, directed by Scott Elliott, is The New Group's latest presentation, and compared with the group's most recent offerings, it is somewhat traditional in plotting and characterization.
Diana (Janeane Garofalo) and Misha (Daniel Oreskes) live in Sheepshead Bay with their two teenage children, Alex (Raviv Ulman) and his younger sister Mira (Sarah Steele). Misha runs a car service. Diana works in some sort of retail establishment. Alex helps his father and earns extra money selling cell phones and drugs. Mira is discovering love in back alleys while she dreams of spending a year abroad.
There's plenty of discord in this Russian Jewish family. Diana refuses to listen to her daughter pleading to be allowed to apply to the study abroad program. Alex teases and belittles his sister relentlessly. Diana is not dissatisfied with her husband's inability to earn more money. Some of their arguments are funny. Others are brutal.
When Diana's brother Boris (Morgan Spector) arrives from Russia, at first it seems that the family may become happier and more stable. Boris is Diana's darling. He is strong, good-looking and apparently, a ladies' man. He has come to help out the family financially.
Sarah Steele and Janeane Garofalo. Photo by Monique Carboni.
Boris arrives laden with gifts and charm. He seems to know everyone's sore spot and how it can be soothed. He also packs a gun and has friends most people wouldn't want around the house. And part of his plan is to get Alex to help him chauffeur young Russian women from the airport to handlers who will trap them into a life of prostitution. Now Alex too carries a gun. But it doesn't sit with him as easily as it does with his uncle.
Much of "Russian Transport" is compelling and suspenseful. We are sure something awful is going to happen when Misha discovers what Boris is doing to his son or when Alex figures out what Boris has almost done to his sister.
Chekhov famously said, "If in the first act you have hung a pistol on the wall, then in the following one it should be fired. Otherwise don't put it there." "Russian Transport" has only one act, but it has two guns and nothing much is done with either.
Nevertheless, Garofalo is both demonic and loving, and if Derek McLane's two-tiered set does not entirely serve the various scene changes, Peter Kaczorowski's lighting and the cast's fine acting help overcome this snag.
"Russian Transport" is a fascinating look into the seamier side of the Russian Jewish community. It will surely make some people uncomfortable. In theater, that's a good thing.