| go to index of reviews | go to entry page | | go to other departments |

Paulanne Simmons

"Chinglish" Is Very Funny in Any Language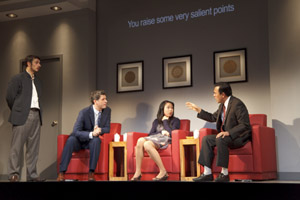 CHINGLISH -- From left to right, Stephen Pucci, Gary Wilmes, Angela Lin, Larry Lei Zhang. Photo by Michael McCabe.
"Chinglish"by David Henry Hwang
Directed by Leigh Silverman
Longacre Theatre
220 West 48th Street
Opened Oct. 27, 2011
Tues. thru Thurs. at 7pm, Fri. & Sat. at 8pm, Wed. & Sat. at 2pm, Sun. at 3pm
Reviewed by Paulanne Simmons Nov. 30, 2011

The are many misunderstandings in David Henry Hwang's new play, "Chinglish," about an Ohio businessman trying to cash in on the Chinese capitalist boom. The most obvious are those that creep in thanks to inaccurate translations between English and Chinese. The supertitles that simultaneously translate conversations during both official business and intimate moments are the source of much audience laughter. But the more subtle misunderstandings are the result of differing cultural values and expectations.
Directed by Leigh Silverman, "Chinglish" is a swift-moving comedy that stars Gary Wilmes as Daniel Cavanaugh, a signage manufacturer attempting to save a floundering family business, and Jennifer Lim as Xi Yan, the vice minister of culture, who tries to help him. Daniel is also being aided by a Peter Timms (the excellent Stephen Pucci), who claims he has special influence with Xi Yan's boss, Minister Cai Guoliang (Larry Zei Zhang) because he has helped his not-too-bright son get into a prestigious British university.
But just as Xi Yan has her own reasons for helping Daniel, her boss has personal and political reasons for not awarding the hapless American the contract. Unaware of the machinations surrounding him, Daniel falls in love with Xi Yan, who is as bored with her husband as he is with his wife, back home with the kids in the U.S.
Daniel sees the love affair as the opportunity for a new beginning, while Xi Yan sees it as a temporary escape. This is a misunderstanding much deeper and more painful that those generated by mistranslations. But Hwang does not dwell on the pain. One of the funniest scenes occurs when Xi Yan teaches Daniel how to say "I love you" in Chinese, and Daniel, by changing the inflection of his voice, ends up giving his beloved very different messages.
Cavanaugh is fine as the American businessman who is more befuddled than ugly. In fact, he is so pleasant and seemingly honest it's possible to overlook the ease with which he is willing to throw over his wife and children for his new love. Lin's character has more depth and is ultimately more sympathetic. And Lin does an exceptional job keeping this obviously manipulative woman likable.
Hwang does not delve deeply into the characters. Because so much is revealed through physical action aided by the supertitles, "Chinglish" has a slapstick and silent film quality. Nevertheless, after the audience recovers from fits of laughter, there is much to think about.