| go to index of reviews | go to entry page | | go to other departments |

Paulanne Simmons
Irish Rep Give "Tryst" a Different Twist



"Tryst"
Directed by Joe Brancato
The Irish Repertory Theatre
132 West 22nd Street
Opened July 7, 2011
Tues--Sat at 8pm, 3pm matinees on Wed., Sat. and Sun.
Tickets: $55 & $65 (212) 727-2737 or www.irishrep.org
Closes Aug. 21, 2011
Reviewed by Paulanne Simmons July 6, 2011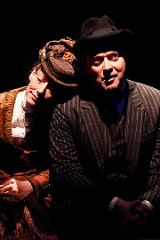 Andrea Maulella as Adelaide and Mark Shanahan as George. Photo by Carol Rosegg.
The trick to being a successful con-man is most probably the ability to find the perfect victim. George Love, the anti-hero of Karoline Leach's Edwardian melodrama, "Tryst," is a handsome Lothario who has an uncanny ability to spot just the right type of lonely woman he can woo, marry, fool into handing over all her wealth and then leave abandoned and penniless.
In the Irish Rep's excellent production, directed by Joe Brancato, Love is played by Mark Shanahan, and the spinster who becomes his victim, Adelaide Pinchin, is portrayed by Andrea Maulella. Although the outcome of their alliance seems inevitable, their riveting performances keep the audience on the edge of the seat until the dramatic climax.
Despite Love's well-practiced technique, he finds that Adelaide is more than a lonely milliner. She is a strong-willed and insightful woman who is more than his psychological match. Adelaide understands Love much better than he understands himself, and she is able to strike where he is weakest.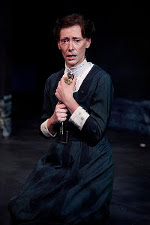 Andrea Maulella as Adelaide Pinchin. Photo by Carol Rosegg.
"Tryst" had its debut on April 6, 2006 at the Promenade Theatre, starring Max Caulfield and Amelia Campbell. In that production, Caulfield portrays Love as a handsome, confident man-about-town who has his demons well under control. He justifies his deceptions and perfidy by telling himself that he gives his women one night to remember before leaving them destitute. His inner anguish is revealed slowly and subtly. Much is left to the audience's imagination.
Shanahan, on the other hand, makes it clear from the very beginning that Love is barely hanging on to his lifestyle. He is the product of poverty and abuse, and this is what has made him an abuser of others. Love has trouble maintaining his image.
The differences in the characterization of Love have very significant effects on the outcome of the production. While in the Promenade version the ending comes as a surprise that makes sense only after reflection, in the Irish Rep production, one never questions Love's motives. Everything he does makes sense and is perfectly clear.
In fact, Love is so transparent some people may find it difficult to understand why he is so successful in his pursuit of Adelaide. It is only Maulella's ability to show Adelaide's vulnerability along with her steeliness that makes the "tryst" believable.
Nevertheless, "Tryst" is a psychological Thriller that Hitchcock would have had great fun with had he only been alive to discover it. The ever-present repressed sexuality and violence seem ready to break out at any moment. It's only a question of when and how.