| go to index of reviews | go to entry page | | go to other departments |

Paulanne Simmons
Town Hall Celebrates 90 Years of
Culture and Entertainment
"Town Hall at 90"
H osted, created and wrote by Scott Siegel
123 West 43rd Street, New York
Town hall is 90-years-old this year. And to commemorate the milestone, President Marvin Leffler held a big bash on May 2, hosted by Scott Siegel, creator/writer of The Town Hall's Broadway By the Year series. And a bunch of big stars helped celebrate.
The McKim, Mead & White-designed building was built by a group of suffragettes as a meeting space to educate people. But when a Spanish violinist's performance proved how excellent the hall's acoustics were, its functions were considerably expanded. In its 90-year history, the hall has played host to the likes of Igor Stravinsky, Bob Dylan, and Miles Davis, as well as Eleanor Roosevelt and Margaret Sanger.
As Siegel put it, if asked about its past, the walls "wouldn't speak, they'd kvell."
Tovah Feldshuh appeared at "Town Hall at 90," a benefit concert to celebrate the institution's 90th birthday on May 2, 2011. Photo by Jonathan Slaff.
Indeed the anniversary gala featured a lineup of stars worthy of the event, beginning with Tovah Feldshuh singing a "Town Hall Medley" with music and lyrics by Gershwin and Styne, with a little help from Feldshuh.
John Pizzarelli (L) and his father, Bucky Pizzarelli (R). Photo by Jonathan Slaff.
Other highlights of the evening included jazz guitarists Bucky Pizzarelli and his son John playing a medley from the Les Paul songbook and standards such as "Long, Long Time" and very appropriately, "Sentimental Journey." Jeffry Denman and Noah Racey's dance number to the tune of Lane and Harburg's "Necessity" would have been worth the trip to Town Hall even if it hadn't been surrounded by other gems.
A good number of the performers came to Town Hall from great distances or between gigs. Jason Robert Brown played the piano and sang even though he was battling the flu.
In the past three decades, The Town Hall has welcomed some of the hottest acts in town: Billy Joel, Robin Williams, Nora Jones, Blondie. But true to its origins, the hall is still involved in educating and enriching the citizenry. Its arts-in-education program helps public schools advance their arts programs, and its Black History Month Celebration provides live performances for 4,500 city youth and their teachers.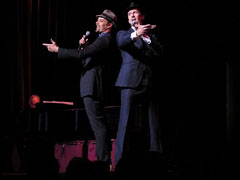 Noah Racey (L) and Jeffry Denman (R). Photo by Jonathan Slaff.
The celebration had a more serious purpose too. All proceeds from the benefit will go to The Town Hall's Educational Outreach Program.