Paulanne Simmons
"The Pitmen Painters" Gives New Meaning to
"Anyone Can Draw"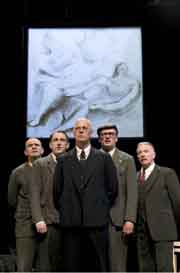 "The Pitman Painters," photo by Joan Marcus.
"The Pitmen Painters"
Directed by Max Roberts
Manhattan Theatre Club and Live Theatre, Newcastle/National Theatre of Great Britain
Samuel J. Friedman Theatre
261 West 47th Street
From 9/14/10; opening 9/30/10; closing 12/12/10
Tickets: $61- $111
Reviewed by Paulanne Simmons Oct. 2, 2010
Lee Hall, whose work on "Billy Elliot the Musical" helped the show garner ten Tony awards, goes back to English miners for his new play, "The Pitmen Painters." Hall was born in the mining town of Newcastle, but his play is inspired by William Feaver's book about a group of British miners who discover the power of art and become at first reluctant and then enthusiastic artists.
"The Pitmen Painters" is gracefully directed by Max Roberts (artistic director and founding member of Live Theatre, Newcastle upon Tyne) and features an excellent cast led by Ian Kelly (whose talents include those of a biographer) as Robert Lyon, the Master of Painting at Armstrong College Newcastle who is determined to bring art to the people; and Christopher Connell as Oliver Kilbourn, his star pupil. Together cast and director take the audience on a journey of self-revelation in which the fledgling artists learn not only how to interpret art and create their own paintings, but also about the value of work and friendship.
The actors work brilliantly together and singularly. Each has his moment of insight. Each can be vulnerable or stalwart, prudish or open-minded. Lisa McGrillis is particularly charming as the model who scandalizes the miners when she causally takes off her clothes to pose in the nude.
Thanks to Hall's skillful dialogue and the actors' emotionally charged interpretations, even the headiest pronouncements on art trip easily and believably from the mouths of these otherwise clumsy miners. This play is no intellectual exercise, but rather a portrayal of very real people trying to make ends meet at the height of the worldwide depression that preceded World War II.
Gary McCann's set, which remains almost bare, even when the miners are in fancy museums or the elegant home of art collector Helen Sutherland (Phillippa Wilson), makes for a strong visual interpretation of these men's harsh and precarious existence. Slide projections give the audience a clearer idea of what the artists' work (which ranges from pictures of mining life to more sophisticated abstractions) actually looked like. And music between scenes is a pleasant aural reminder of the times.
Perhaps one of the play's most significant points is the way the upper class tends to unwittingly patronize the poor, even while attempting to help. The miners are not unaware that they are considered promising rustics at best, or worse yet, interesting specimens by many of those who gaze curiously at their work. They eventually find out that Lyon has written a dissertation about them that has led to a new and important position,
Through it all, however, the miners display an admirable respect for human dignity. Oliver refuses to leave his work and his mates when Helen Southerland offers to support him so he can concentrate on his paintings. The Young Lad (Brian Lonsdale) naively but earnestly joins the army so he can serve his country and distinguish himself in battle.
"The Pitmen Painters" is deeply satisfying on every level: intellectual, emotional and theatrical.