Paulanne Simmons
"Manhattan Transfer" Has Too Much Urban Sprawl
"Manhattan Transfer"
Directed by John W. Cooper
Turtle Shell Productions
The Shell Theater
300 West 43rd Street, 4th Floor
Opened July 17, 2001
Various Times
Tickets: $18 (212) 352-3101 or turtleshellproductions.com
Closes Aug. 1, 2010
Reviewed by Paulanne Simmons July 25, 2010
Adam Shorsten & Casandera M.J. Lollar in "Manhattan Transfer." Photo by Paulina Cooper.
In 1915 Harper published John Do Passos's novel "Manhattan Transfer." It was a "collective novel" with a unifying theme of alienation that is portrayed by various characters with interacting stories.
Martin Zuckerman, a former mathematics professor at City College, has adapted the novel into a play that features several of Dos Passos's original plotlines. Although Zuckerman focuses on the lives of three people, when you add in all their many lovers and acquaintances, the play is nevertheless long, rambling and at times hard to follow.
That Turtle Shell Productions should attempt such a challenging, panoramic play is commendable. But the people who have to sit through it may not particularly care about laudable intentions.
Jenn Goodson in "Manhattan Transfer." Photo by Paulina Cooper.
This is not to say that the play does not have its good points. The actors in featured roles – Brad Coolidge as George, the ambition, ruthless and philandering lawyer; Casandera M.J. Lollar as the actress whose love affairs are more prominent than her talent; and Nick Fesette as Jimmy, a young reporter who wants to cover important issues but ends up in the gossip column – all try hard to make their characters distinctive.
Fesette is particularly engaging in his thoughtful monologues. And Anthony J. Gallo, who plays a number of tough guy parts, is excellent in all of them.
With the aid of scrims, projections and painted flats, scenic designer Victoria Depew has created a set that accommodates the play's many scene changes and also evokes the rough-and-tumble Manhattan at the beginning of the 20th century.
Director John W. Cooper, who is also founder and artistic director of Turtle Shell Productions, leaves no stone unturned to make the show work: lighting, song, sound effects. All of them work well, but none can work the impossible on the bloated script.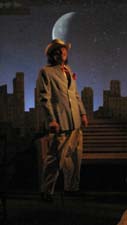 Mark A. Keeton in "Manhattan Transfer." Photo by Paulina Cooper.
In fact, not only could the play be cut, many scenes could probably be eliminated with no loss of meaning and a great gain in efficiency. A few of Ellen's friends and fellow-actresses seem to float around without much purpose.
The various stories presented in "Manhattan Transfer" are set against the events of the time: World War I, Tammany Hall corruption, Prohibition. But Zuckerman is so interested in showing the audience who is sleeping with whom and who is surprising whom in flagrant delit that when he turns his pen toward current events, it seems almost like an afterthought. In fact so many couples are caught before, after or during the act one can't help but wonder why these people just don't get wise and put a lock on their door.
Still there is a play in "Manhattan Transfer." Dos Passos is not considered a great American novelist for nothing. It's merely a matter of clearing away the debris and getting back to the drawing board.