Paulanne Simmons
"Gabriel" Is Glorious
"Gabriel"
Directed by David Esbjornson
Atlantic Theater Company
336 West 20th Street between 8th and 9th avenues
Opened May, 13, 2010
Tues. thru Fri. 8 p.m., Sat 2 & 8 p.m., Sun. 3 p.m.
Tickets: $65 (212) 279-4200
Closes June 6, 2010
Reviewed by Paulanne Simmons May 15, 2010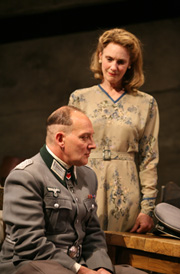 Zach Grenier and Lisa Emery in Atlantic Theater Company's American premiere production of Moira Buffini's play "Gabriel." Photo by Ari Mintz.
Why is it that World War II never ceases to be the source of compelling and relevant drama? I certainly don't know. But Moira Buffini's "Gabriel," which opened in London in 1997 and is now making its New York premiere at the Atlantic Theater Company, directed by David Esbjornson, is definitely one of the finest examples of the genre I've seen in a long time.
Set in the Channel Islands, the play documents an episode in English history the Brits are no doubt not particularly proud of. With the German conquest of France assured, the British government surrendered these islands between France and England to the Germans, forcing British citizens to live under German rule.
"Gabriel," however, is not the story of valiant resistance of an oppressed people. Jeanne Becquet (Lisa Emery) who heads the family now that her husband is dead and her son fighting in the RAF, consorts with German officers and is an active participant in the black market. She and her elderly housekeeper, Margaret Lake (Patricia Conolly) have no other ambition than to keep the family intact until the war is over.
But Jeanne's young daughter, Estelle (Libby Woodbridge) is creating an imaginary "square of power" to defeat the Germans and performs random acts of sabotage to annoy the newly arrived replacement commandant, Major Von Pfunz (Zach Grenier). Jeanne's daughter-in-law, Lillian (Samantha Soule), is a Jew whom she has registered as a Christian. And when a naked man, washes up ashore, the family names him Gabriel and is determined to protect God's messenger.
Lee Aaron Rosen, Zach Grenier and Libby Woodbridge in Atlantic Theater Company's American premiere production of Moira Buffini's play "Gabriel." Photo by Ari Mintz.
The problem is Gabriel (Lee Aaron Rosen) speaks both German and English perfectly. If he is a messenger, on whose side is he? Von Pfunz believes he is one of Hitler's rising stars who has survived the sinking of a German boat. The family hopes he is an RAF airman who fell out of the sky when a plane crashed in the water.
As the Becquet household grows increasingly attached to the young man, who cannot remember who he is or where he came from, Jeanne and Von Pfunz play a cat-and-mouse game in which each vies for the other's affections and control. Jeanne's ambitions are complicated by the fact that she has revealed too much before she realized the major speaks English, Von Pfunz's because he is truly infatuated with Jeanne and keeps a diary documenting his crimes, which torture what he believes to be his poetic heart.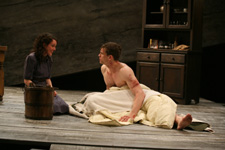 Samantha Soule and Lee Aaron Rosen in Atlantic Theater Company's American premiere production of Moira Buffini's play "Gabriel." Photo by Ari Mintz.
Despite the severity of the situation, "Gabriel" is not without humor, mostly thanks to the irony of the situation and the great wit Buffini gives Jeanne and Von Pfunz. Set designer Ricardo Hernandez has emphasized the unnatural turmoil of lives under occupation with a house that is clearly askew, with a slanting floor and deteriorating furniture.
Many reviewers have called "Gabriel" a melodrama. But that misunderstands both the play and the genre. In the traditional melodrama, the characters are one-dimensional and unambiguously good or bad. In "Gabriel" the characters are subtly written and under Esbjornson's able direction, sensitively portrayed. They constantly surprise.
In fact, "Gabriel" is really a parable, a short tale that illustrates a universal truth. The truth is that all human beings are frail and imperfect but also capable of remarkable acts of charity and sacrifice. "Gabriel," with its very literate dialogue and nuanced performances, is magnificent.