Paulanne Simmons
Rick Pulos's Show Looks at Gay Men through Three Decades
"Decades Apart: Reflections of Three Gay Men"
Directed by Barbara Parisi
Presented by Nuyorican Poets Café and Ryan Repertory Company
At Nuyorican Poets Café
236 East 3rd Street between avenues B & C
Opening April 26, 2010
Mondays at 7:30 p.m.
General Admission: $15, seniors, students with valid I.D.s and groups: $10, www.nuyorican.org or (212) 780-9386
Closes May 24, 2010
Reviewed by Paulanne Simmons May 10, 2010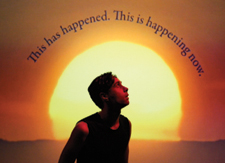 Rick Pulos in "Decades Apart: Reflections of Three Gay Men". Photo by Basil Horn.
It sometimes seems that solo shows are the most popular form of theater nowadays. They're easy to put on. They don't cost much money. And they certainly don't require big stages. But, on the bright side, they often showcase real talent.
Rick Pulos, who wrote, designed and performs "Decades Apart: Reflections of Three Gay Men," is a talented young man who has studied film and theater at Yale University and already has one published play under his belt. His show mixes music, video and live performance to capture significant moments in the lives of three gay men.
The show opened the first ever Long Island Fringe Festival in fall 2009, and its director, Barbara Parisi, who is also the executive director of Ryan Repertory Company, has joined forces with Dan Gallant, executive director of Nuyorican Poets Café, to bring the show to New York City.
Rick Pulos in "Decades Apart: Reflections of Three Gay Men".
Pulos plays three characters. Bob is a bathhouse regular in 1970s San Francisco, who, with a towel wrapped around his waste, seems much like a latter-day Socrates. Patrick, a gay Republican living in New York City in the 80s, at the height of the AIDS epidemic, finds love, but not happiness, in a record store in New York City. Danny is a Los Angeles hustler who parties hard in the 1990s.
Pulos has a fine gift for words. Lines such as "There's more to living than the life you've been living," "There's something special about feeling special" and "He's my poppy field in the Wizard of Oz" seem to flow from his pen like the proverbial river. But the lines often lack the substance better and deeper characterization would have given them.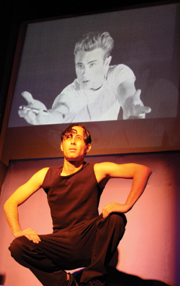 Rick Pulos in "Decades Apart: Reflections of Three Gay Men". Photo by Basil Horn.
As hard as he tries, Pulos's writing often fails to distinguish and delineate each of his characters. They never rise from their status as representative gay men. And his mannered acting doesn't help much either.
Pulos does use videos to great effect, creating time, place and mood with tapes of actual events as well as fanciful imagery. The music (uncredited) does the same. But when the videotape is used to deliver a heavy-handed message about gay rights and the fight against bigotry, it loses much of its power and becomes mere propaganda.
There's much too much talk about God and love and relationships in "Decades Apart" and far too little explanation of the role God plays in these men's lives, what they love in their partners and why these relationships might succeed or fall apart.
Still, there's a good deal to work within this work. A trip back to the drawing board might do wonders.