Paulanne Simmons
Theater and History Meet at Macdougal Street
In Barbara Kahn's "The Spring and Fall of Eve Adams"
"The Spring and Fall of Eve Adams"
Written and directed by Barbara Kahn
April 15 - May 2, 2010
Thurs - Sat at 8 P.M., Sun at 3 P.M.
Theater for the New City
155 1st Ave@ 10th
Tickets: $12. 212-254-1109
Reviewed by Paulanne Simmons May 1, 2010


Marisa Petsakos (rear) as Rene looks on as Steph Van Vlack (left) as Eve Adams and Martha Lee (right) as Margaret Leonard get acquainted in The Spring and Fall of Eve Adams. Photo by Dan Henry.
In 1926, Macdougal Street was the place for artists, bohemians and people of varied sexual orientations. While The Provincetown Playhouse was presenting groundbreaking theater and introducing Eugene O'Neill to the world, two doors down, Eve's Hangout, a tearoom owned by lesbian author Eve Adams, encouraged local writers to present their work at her evening salons.
Barbara Kahn's new play, "The Spring and Fall of Eve Adams," recounts the true story of this extraordinary woman who was a victim of homophobia and anti-immigrant hysteria that ultimately led to her death at the hands of the Nazis.
Anna Podolak as Mika (left) helps Marisa Petsakos (right) as Rene
perform at poetry night in The Spring and Fall of Eve Adams. Photo by Dan Henry.
Kahn directs a cast headed by Steph VanVlack as the warm and generous Adams. Her tearoom is frequented by a group of nonconformist ladies who bicker over her attention and other alliances, typical behavior in close-knit communities: the flamboyant Rene Gaudin (Marisa Petsakos), the married June Miller (Michelle Cohen), the waitress/student Amalia "Mika" Frank (Anna Podolak) and the runaway from the hinterlands of New Jersey, Alice Hathaway (Micha Lazare), who finds true love and support with Mika.
Men are admitted to Eve's Hangout, but they are not welcome. And this is something the excluded males, who ruled society at the time, cannot tolerate. Eve's haven of artistic and sexual freedom is soon threatened by religious and governmental authorities, represented by Detective Rogan (Jimmy Heyworth).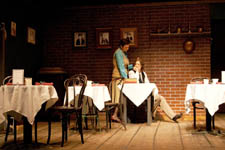 Steph Van Vlack as Eve Adams (left) and Marisa Petsakos (right) as Rene in The Spring and Fall of Eve Adams. Photo by Dan Henry.
Mark Marcante's set, which allows the audience to glimpse both the inside of Eve's tearoom and the brownstone door and stoop, and period clothing by Deanna R. Frieman, set the tone and provide historical accuracy for this period piece. For history buffs and feminists of all types, many aspects of the play are indeed riveting.
"The Spring and Fall of Eve Adams," like all of Kahn's plays, combines the playwright's love of theater and fascination with history, most specifically when it concerns feminist and gender issues. However, Kahn's plays never rely solely on documented veracity. Kahn creates believable characters whose personal tales are as compelling as the background information which helped form them.
Whether Kahn is writing about Greenwich Village or Romania, her plays provide a look not only into history but also into the human heart.