Paulanne Simmons
"The Addams Family" Moves to Broadway, and Takes Over
"The Addams Family"
Creative Consultant Jerry Zaks
Directed and Designed by Phelim McDermott & Julian Crouch
Lunt-Fontanne Theatre
205 West 46th Street
Previews began March 8, 2010
Mon. – Sat. 8 p.m., matinees Wed. & Sat. 2 p.m.
Tickets: $51.50-136.50 (800) 982-2787 or theaddamsfamilymusical.com
Reviewed by Paulanne Simmons March 7, 2010
Nathan Lane and Bebe Neuwirth in" "The Addams Family"." Photo by Joan Marcus.
The Talk about dysfunctional families! The Addams clan has been delighting the public with their weird antics ever since New Yorker cartoonist Charles Addams invented them back in 1932. The TV show, which brought the lovable freaks into millions of households for two seasons, only increased their popularity. And now we have them on Broadway, singing, dancing and cracking jokes.
Nathan Lane delights as the amiable (and, yes, sexy) Gomez Addams. Lane is perfect as the perplexed husband who, despite some peculiar tastes and habits, is merely trying to deal with a daughter (Krysta Rodriguez as Wednesday Addams) who has raging hormones and a wife (Bebe Neuwirth as the sexy Morticia) who is all too aware that her hormones are on the wan.
The plot is set in motion when Wednesday informs her family that she has found the love of her life, Lucas Beineke (Wesley Taylor), and he is a regular guy from Ohio. His parents are coming and her folks had better act normal. Fairly predictable, but with all those ghoulishly funny results, who cares?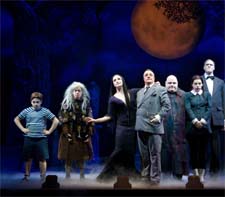 (l-r) Adam Riegler, Jackie Hoffman, Bebe Neuwirth, Nathan Lane, Kevin Chamberlin, Krysta Rodriguez and Zachary James. Photo by Joan Marcus.
Of course, as it turns out, Lucas' parents are far from normal, especially after, Alice Beineke (Carolee Carmello), his rhyme-spouting mother, accidentally drinks a special potion concocted by Grandma (Jackie Hoffman). And Lucas' father, Mal Beineke (Terrence Mann) only needs a little Addams inspiration to bring out his inner weirdo.
A moonstruck Uncle Fester (the excellent Kevin Chamberlain), the macabre Lurch (Zachary James), an innocently ghoulish pre-adolescent Pugsley (Adam Riegler) and a variety of puppets created by Basil Twist, portraying such creatures as a giant squid and Cousin Itt complete the picture.
Marshall Brickman and Rick Elice's book sticks pretty closely to the original storyline, except for a few minor details and an occasional bow to current events. In fact, one of the biggest laughs of the evening occurs when Grandma tells the young Pugsley to "stop the damn texting and pick up a book once in a while" so he will perhaps understand references to Medea and Mary Poppins.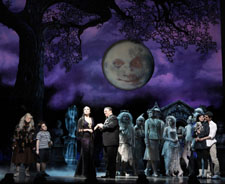 Bebe Neuwirth and Nathan Lane. Photo by Joan Marcus.
Lane and Chamberlain are definite standouts, but Carmello almost steals the show when she throws herself on the table and belts out "Waiting."
The dancing in "The Addams Family" may disappoint, as the ensemble composed of The Addams Ancestors is never given enough to do, and what they do is not well integrated into the play. But Andrew Lippa's score bounces easily from traditional Broadway ballads ("In the Arms') to rock ("I'm Crazier than You"). And his lyrics are wonderfully witty and wise.
From the opening "When You're an Addams" to the closing "Move Toward the Darkness," "The Addams Family" is a nonstop festival of exuberant joy. For some it will take a considerable effort to suspend belief and adult maturity and enter Phelim McDermott and Julian Crouch's fantastic Addams mansion. But an evening of pure entertainment awaits those who dare.