Paulanne Simmons
"Lost in Yonkers" Is a Winner
"Lost in Yonkers"
Directed by Michael Bloom
Paper Mill Playhouse Brookside Drive, Millburn, NJ
Opened Feb. 17, 2010, Closes March 14, 2010
Wed. 7:30 p.m., Thurs. 1:30 & 7:30 p.m., Fri. 8 p.m., Sat. 1:30 & 8 p.m. Sun. 1:30 & 7 p.m.
Tickets: $25-$92. Student rush $20,
(973) 376-4343 or www.papermill.org
Reviewed by Paulanne Simmons Feb. 21, 2010
(L-R) Sara Surrey (Bella); Alex Wyse (Jay); and Maxwell Beer (Arty).Photo by Peter Jennings.
If you've ever wished Aunt Sadie would learn to eat with a fork and knife, or your kid brother would cover up his skull and crossbones tattoo on his forearm, or you didn't have to visit your cousin at that institution in the hills of Pennsylvania, Neil Simon's "Lost in Yonkers," at the Paper Mill Playhouse, is a must-see.
Simon wrote the "comedy" in 1992 (his 27th) after two atypical failures, "Jake's Women" and "Rumors." It was both a critical and popular success, earning Simon a Pulitzer, a Tony and a Drama Desk Award .
Set in 1942, the play features a highly disturbed family headed by the tyrannical, bitter and cold German-Jewish matriarch, Grandma Kurnitz (the magnificent Rosemary Prinz). When her widower son, Eddie (John Plumpis) travels south to sell scrap metal as part of the war effort, she is given the care of his two adolescent sons, Arty (Maxwell Beer) and Eddie (Alex Wyse).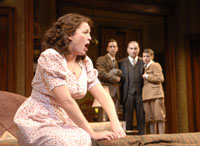 (L-R) Sara Surrey (Bella); Alex Wyse (Jay); John Plumpis (Eddie); and Maxwell Beer (Arty). Photo by Peter Jennings.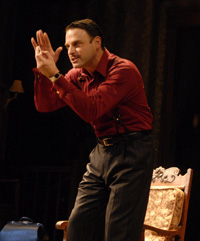 J. Anthony Crane (Uncle Louis). Photo by Peter Jennings.
The sweet, innocent and charming boys soon meet the rest of the family: the mildly retarded Bella (Sara Surrey); Uncle Louie, the gangster (J. Anthony Crane); and Aunt Gert ( Patricia Buckley), who has a breathing problem that prevents her from speaking more than a few words at a time.
But nobody makes craziness lovable as Simon does. So you know from the very beginning that the boys will befriend Bella, Louie will have a heart of gold (well, maybe an alloy of gold), Gert will gather her forces and enough words to come to the boys' rescue and Grandma Kurnitz will be tamed (somewhat).
Directed by Michael Bloom, the Paper Mill Playhouse production is perfect in many ways, from Michael Schweikardt's set, so evocative of lower middle class wartime America, to a cast that knows how to be loving but not sappy and eccentric but not ludicrous.
Alex Wyse (Jay) and Maxwell Beer (Arty). Photo by Peter Jennings.
Prinz manages to limp across the stage with the effect of a stride. Her performance is the glue that holds the production together. But she leaves the other actors plenty of space to shine.
(L-R) Sara Surrey (Bella) and Rosemary Prinz (Grandma). Photo by Peter Jennings.
Beer and Wyse fully understand Simon's ability to mix humor and sadness, something that comes with age far beyond their actual years. With youthful energy they bound in and out of their makeshift bed, up and down stairs, and in-and-out of the arms of loving and not so loving relatives.
Surrey brings out all of Bella's loving wisdom, despite the limited vocabulary Simon gives her. She is a wonderful contrast to Buckley, whose fine performance portrays someone who has lots more understanding but cannot speak.
Even Louie, pretty much a stock criminal character, is enhanced by Crane's ability to combine brutishness with a somewhat warped sensitivity.
Millburn, NJ is a wonderful place to learn all about Yonkers. Use your GPS system and you won't get lost.