Paulanne Simmons
The Irish Rep Presents "Father Knows Best" – Take Two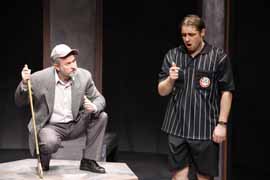 WHEN I WAS GOD -- Gary Gregg as Father and Michael Mellamphy as Dinny Keegan. Photo by Carol Rosegg.
"After Luke" and "When I Was God"
Directed by Tim Ruddy
Irish Repertory Theatre
132 West 22nd Street between 6th and 7th
Opened Aug. 6, 2009
Wed. thru Sat. 8 p.m., Wed., Sat. & Sun. matinees 3 p.m.
Tickets: $65, $55 (212) 727-2737
Closing Sept. 20, 2009
Reviewed by Paulanne Simmons Aug. 13, 2009

Irish Rep's double-header, "After Luke" and "When I Was God," can be seen as a searing indictment of fatherhood or a semi-sweet, semi-ironic remembrance of the pitfalls in the father/son relationship. Both plays were penned by Irish playwright Conal Creedon and both take place in present-day Cork. Both are ably directed by Irish Rep veteran Tim Ruddy ("Philadelphia, Here I Come," "The Field," "Defender of the Faith," "Prisoner of the Crown").
"After Luke," which is inspired by the story of the Prodigal Son found in the Gospels, presents a fractious triangle formed by Dadda (Colin Lane), Son (Gary Gregg) and Maneen (Michael Mellamphy).
Anyone who has a sibling will surely recognize the complaints of older brother, called Son. Even as an adult, he believes he was always expected to behave with more maturity and blamed for all the mishaps he and his brother got into – from cowboy and Indian games to a near drowning.
Maneen, on the other hand, also believes he's gotten the short end of the stick. He's convinced his father always took his brother's part and now that he's left home, he's jealous of Son and Dadda's close relationship.
For his part, Dadda admits that it is Maneen who lights up his life and not Son, who has "the brains of a mechanic and the hands of a surgeon." He bemoans the fact that his sons, are like chalk and cheese (it's not too clear which son is which) and get along like cats in a barrel. Although the play is brilliantly written, Creedon does occasionally get caught in the Irish penchant for metaphor.
The situation is complicated by the past. Dadda is not Son's biological father, and in times of stress Maneen is not above taunting his half-brother with his half-breed status. Their mother died under difficult circumstances.
When Maneen comes back home the family is torn apart by the future. Maneen, like some opportunistic offspring in a Chekov play, has discovered the value of his father's land and is determined to sell the whole place.
Ruddy is clearly comfortable with Creedon's intensely cerebral script. With the aid of Lex Liang's impressionistic set and Brian Nason's lighting, Ruddy makes it clear that most of the action in "After Luke" take place in the characters' minds. Just to make sure no one could mistake any of the action for naturalistic, Mrs. Foley, a local shop owner, is played to great comic effect by Mellamphy.
"After Luke" builds so steadily and precipitously, many will be expecting a more dramatic ending. But for this reviewer, the play, like life, ends on a very appropriate question mark.
"When I Was God" treats the father/son relationship with a lighter, more humorous touch. Young Dinny (Mellamphy) wants to play soccer. His mother (the very talented Mellamphy, once again in multiple roles) wants him to get a good education and play soccer. But his father (Gregg), having been thwarted by injury in his own career, is determined that his son become a hurler. FYI: Hurling is Ireland's national passion.
That's pretty much the story. It would have made a fine ten-minute play. And even an Irishman like Creedon, who has clearly kissed the Blarney Stone, can't make much more of it.
With that said, the two works still have much to commend them (certainly the ensemble acting is superb). What's more, you don't have to be Irish to enjoy "After Luke" and "When I Was God." You merely have to have had a father or know someone who has had a father to appreciate the funny and poignant interactions onstage at the Irish Rep.