Paulanne Simmons
Diverse City Theater Explores "Passing"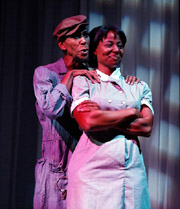 Michael McGlone and Gin Hammond in a scene from Noon Day Sun
"Noon Day Sun"
Directed by Victor Lirio
The Beckett Theatre on Theatre Row
412 West 42nd Street
Opened Aug. 14, 2008
Mon. thru Sat. 8 p.m.
$18 (212) 279-4200
Closes Aug. 30, 2008
Reviewed by Paulanne Simmons Aug. 26, 2008
When most people think of "passing," what comes to mind is the black man or woman whose skin color is light enough that most people will take that individual for white. But for Cassandra Medley, author of "Noon Day Sun," passing takes many forms.
Presented by Diverse City Theater, and directed by DCT's founder and artistic director Victor Lirio, "Noon Day Sun" explores race and identity through the portrayal of four characters.
Zena (the totally believable and very moving Gin Hammond) is a bi-racial woman who has escaped an unhappy marriage and the death of her twin daughters by fleeing north and creating a new identify for herself. The audience meets her in 1957 as the poised and beautiful Wendy.
Brian (Michael McGlone) is Wendy's husband, an Irish Catholic passing as a Presbyterian so he can work his way up in corporate America. His desire for affluence compels him to ignore humiliating ethnic slurs and the uncomfortable fact that he is selling unsafe cars.
Michael McGlone and Gin Hammond in a scene from Noon Day Sun.
Reuben (the excellent Ron Cephas Jones) was Zena's alcoholic husband down south and the father of her dead children. He is now a hotel maintenance man and tells people he is a widower.
Pearl (Melanie Nicholls-King) is Reuben's current girlfriend, a maid at the same hotel. Something of a religious fanatic, her life is burdened by the guilt she feels over having a sexual relationship with a man before marriage. She is passing for a virtuous girl, while underneath she feels dirtied and shamed by her secret behavior
All these people meet at an Autorama Show in Detroit, Michigan where Brian is scheduled to receive an award and a promotion in recognition of his fine performance as a top company salesman. Their crossing of paths leads to fear, guilt and an outpouring of hitherto repressed memories.
"Noon Day Sun" is in many ways and at many times extremely compelling, especially when Medley puts words into the mouths of her black characters. One can almost see the sharecroppers' shacks and smell the fish frying with every word they speak.
She is not so successful with her white characters, whose speech is stilted and unnatural. Many a truly puzzling turn of phrase is made even worse by McGlone's delivery, turning love, anger and shame into parodies of the emotion.
Lirio, who uses great judgment in the way he coordinates past and present and simultaneously occurring scenes, too often lets his actors lose control onstage. Nicholls-King might give a more nuanced performance if she suffered a little more silently. McGlone really doesn't have to storm around the stage quite so much to express his anger.
Nevertheless "Noon Day Sun" has much to tell its audience.
At a time when Barak Obama is about to be nominated as the first black candidate for president, passing needs to be given a new dimension if it is to have meaning for Americans in the 21st century. Medley does this in a way that still pays tribute to its regrettable necessity in the lives of too many blacks in the preceding centuries.