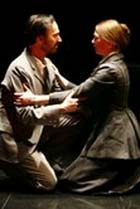 Phillip Goodwin and Emma O'Donnell in "Prisoner of the Crown."
"Prisoner of the Crown"
Directed by Ciaran O'Reilly
The Irish Repertory Theatre
132 West 22nd Street
From May 14, 2008
Wed. thru Sat. 8 p.m., matinees Wed., Sat., & Sun. 3 p.m.
$60 & $55 (212) 727-2737 or www.irishrep.org
Closes July 6, 2008
Reviewed by Paulanne Simmons May 17, 2008

Roger Casement, the last knight of the British realm to be executed, was born Sept. 1, 1864 in Sandycove County, Dublin and died Aug. 3, 1916 in Pentonville Prison. He was knighted for his work exposing the Belgian atrocities in the Congo and the terrible conditions in the rubber plantations of the Putumayo region of South America.
He was hanged for treason after he attempted to secure a German declaration of support for an independent Ireland after World War I (this was shortly before the failed Easter Rising), and encouraging Irish prisoners of war to join an Irish brigade (he got only three recruits).
Richard F. Stockton and Richard T. Herd's "Prisoner of the Crown" asks the question, "Was he an Irish patriot or an English traitor?" Although the playwrights' sympathies are clearly with Casement, the play does raise some interesting questions, and The Irish Repertory's revival, dazzlingly directed by Ciaran O'Reilly does not hesitate to illuminate them.
The production is part "Twelve Angry Men," part "Law & Order," part impressionistic, experimental drama. Several dozen roles are played by an ensemble cast of seven men and one woman, whose primary roles are the members of the jury that will determine Casement's guilt or innocence. The scenes flash back and forth, almost cinematically, from the jury room to the events that led up to the trial.
Philip Goodwin doubles as the one juror most adamantly against a guilty verdict, and Casement himself. He is anguished, ironic, and not invincibly brave, exactly as one suspects most martyrs must be. If Goodwin had only exhibited a bit more energy onstage he would have been perfect.
Ian Stuart plays Sir Ernley Blackwell, who, as Under Secretary of State, was the principle legal assistant for the crown in Casement's trial. In bewigged splendor, he makes amply manifest Blackwell's determination to punish Casement's assault on the crown, even to the extent of releasing (and possibly forging) excerpts from Casement's private diaries, which revealed homosexual activities and a preference for young boys.
Emma O'Donnell, the only female in the cast, is particularly moving as Casement's devoted cousin, Gertrude Bannister, and also does fine work as the ambivalent but righteous Father Ryan.
But the overwhelming element that shines in "Prisoner of the Crown" is the production itself.
Charles Corcoran's set consists of platforms, a ramp, rolling furniture, and chairs that at first represent non-speaking jurors and then turn into lecterns and other useful furnishings. Courtroom scenes are projected on the back and sides of the stage.
In between scenes, a mournful saxophone sets the mood. At times the actors engage in a music hall song and dance routine, a bitter reminder of what this trial was all about. It is rare to see realistic courtroom drama blended so effectively with impressionistic fantasy.
Now that the Irish question has been (mostly and hopefully) settled, it's easier to look back at Casement in a more favorable light. And undoubtedly, some will see similarities in present-day internees of the war on terror. But there doesn't seem to be much doubt that Casement, despite the righteousness of his cause, was indeed a traitor in time of war. The Rosenbergs were executed for a good deal less. And they had two young children who were left orphaned.
But surrounded by a friendly audience at the Irish Rep, its not likely too many people will take note of certain unpleasant truths. Nor should they. "Prisoner of the Crown" is not really about politics. It is about a national story, which needs its myths and its heroes. Who better than Casement to be the hero and The Irish Repertory Theatre to tell the story?