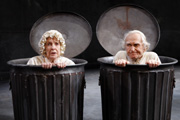 Alvin Epstein and Kathryn Grody in "Endgame" by Andrei Belgrader. Photo by Richard Termine.
"Endgame"
Directed by Andrei Belgrader
BAM Harvey Theater
651 Fulton St. between Ashland and Rockwell Places
Opened April 25, 2008
April 25 & 26, April 29-May 3, May 6-10, May 13-17 7:30 p.m., May 3, 10 & 17 2 p.m., April 27, May 4, 11 & 18 3 p.m.
$25, 45, 65, 75
Closes May 18, 2008
Reviewed April 30, 2008
"Nothing is funnier than unhappiness," says Nell in Samuel Beckett's "Endgame," now onstage at the BAM Harvey Theater under the direction of Andrei Belgrader. Whether or not this is true, it is certainly the guiding principle behind much of Beckett's work.
In "Waiting for Godot," two tramps, Vladimir and Estragon, wait endlessly and futilely for someone named Godot to come and rescue them from their monotonous and purposeless lives. In "Happy Days," Winnie is buried waist deep, then neck deep, in sand, her only companion Willie, her brutish and inarticulate husband, who mostly ignores her and only occasionally comes out of his hole.
If in "Waiting for Godot" the tramps are waiting for help, in "Endgame" they are merely waiting for it to all be over. Clov (Max Casella) is a young man who stumbles around the stage in servitude to Hamm (John Turturro) a blind man who delivers orders from his wheelchair. An old man, Nagg (Alvin Epstein) and an old woman, Nell (Elaine Stritch) live in garbage cans
Nell and Nagg seem quite attached to each other. The first time Nell sticks her head out of her garbage can she says to Nagg, "What is it my pet? Time for love?" The same cannot be said for the other characters.
Hamm and Clov, who may be Hamm's adopted son, are locked in a codependent relationship. Hamm blames the old couple, who turn out to be his parents, for his very existence. Most of the dialogue and action focuses on accusations, explanations, demands and complaints.
And this is funny?
Well, yes, when performed by a cast as talented and experienced as the one onstage at the Harvey Theater. In fact there's something Chaplinesque about the way Casella scurries around the stage, grudgingly doing Turturro's bidding. At times we can believe their dialogue is exactly what the people in a Chaplin film might say if sound had been invented yet.
Stritch and Epstein interact like an aging Burns and Allen. Their nonsensical non sequiturs are sometimes painful, but also sad and funny.
All four characters live in a post-apocalyptic world. The curved, peeling walls of Anita Stewart's set almost seem like a continuation of the only partially restored walls of the old Majestic Theatre which has become the BAM Harvey.
Like most of Beckett's characters they spend their time in meaningless activity. It is this activity, often clown-like, that is the source of much of the comedy and the tragedy in Beckett's work. And the four excellent performers in this production all understand perfectly the subtle and permeable line that separates the two.
"Endgame" is not an easy play to watch or to perform. But when it is performed as well as it is at the Harvey Theater it can certainly be hugely satisfying.