Paulanne Simmons
New York City Opera Presents a Lavish "Candide"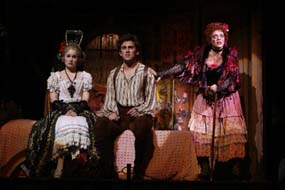 Lauren Worsham, Daniel Reichard and Judith Blazer. Photo by Carol Rosegg.
New York City Opera
New York State Theater
20 Lincoln Center
April 8 – April 20
Tues., Wed, 7:30 p.m., Thurs., Fri. 8 p.m., Sat. 1:30, 8 p.m., Sun. 1:30 p.m.
$16-$130 (212) 721-6500
Reviewed by Paulanne Simmons April 11, 2008
Leonard Bernstein's comic opera, "Candide," has not had an easy life. It was conceived back in 1953 when Lillian Hellman made the suggestion to Leonard Bernstein that Voltaire's comic novel could be successfully adapted into a musical. The immediate result was not promising.
"Candide," is an ironic bildingsroman about a young man who has been taught by his preceptor, Dr. Pangloss, to believe this is the best of all possible worlds. He remains faithful to this tenet through the many trials and tribulations that fall his way after he has been banished from the baron's castle, the result of his dalliance with the baron's daughter Cunegonde. When he returns home, his is given Voltaire's famous advice on the importance of tending one's own garden.
Although the story of "Candide" presents many opportunities for comedy of the most physical and bawdy sort, the basis of its humor is extremely cerebral. Something that doesn't always translate well onto the stage.
Hellman and Bernstein brought in poet John LaTouche as lyricist, fired him by the end of 1954, brought in Dorothy Parker, and finally turned to another poet, Richard Wilbur. When the show opened at the Martin Beck Theatre, it had a book by Hellman; lyrics by Wilbur; and additional lyrics by LaTouche, Parker and Bernstein. It lasted only 73 performances.
In 1974, "Candide" was revived by Harold Prince, with a new book by Hugh Wheeler and additional lyrics by Stephen Sondheim. With its new book, new songs and an innovative staging that turned the entire theater into the environment of the story, "Candide" ran a respectable 740 performances. Prince revived the show for the New York City Opera in 1982, and again in 1997, this time on Broadway.
Now "Candide" is back at the New York City Opera for a limited run. It has the lavish Prince treatment and is certainly delightful to both the eye and ear. The stage has many turrets and recesses, and is seldom filled with fewer than a dozen tuneful souls. The leads, the wily Richard Kind as Voltaire/Dr. Pangloss, the attractive Daniel Reichard as Candide, the excellent soprano Lielle Berman as Cunegonde, and the antic Judith Blazer as the Old Lady, are all convincingly ridiculous.
With such a crowded set, it's no wonder the actors occasionally come off the stage or appear high above the audience in a balcony. This use of the entire house works remarkably well despite the size of the theater.
There are many far more successful shows that have not been revived as many times as "Candide." Such a history is often indicative of a show that has culled more favor with critics than audiences.
Indeed Bernstein's amalgamation of polkas, waltzes (in an asymmetrical seven beats per bar), mazurka, bel canto and chorale are more impressive to a musician than to the average theatergoer who just wants to enjoy music that supports the show rather than a composer's ego.
But if the music sometimes overwhelms the show, it never overwhelms the performers. "Candide" pleases, in the end, not so much as musical as spectacle. For those prepared to submit to the enticement of music, costumes, staging and a story line that is as chaotic as it is fun, "Candide" is the perfect evening.