Paulanne Simmons


"Juno" Is Well-Worth a Second Look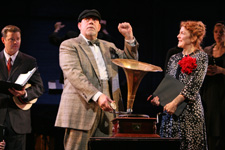 Victoria Clark is the hardworking Irish matriarch struggling heroically to hold her family together in "Juno," the second Encores! production of the season.
"Juno"
Directed by Garry Hynes
Encores!
City Center
West 55th Street between 6th and 7th Avenues
Ran March 27 – March 30, 2008
Reviewed by Paulanne Simmons, March 29, 2008
The Marc Blitzstein/Joseph Stein musical "Juno" only ran for sixteen performances in 1959 and has never been revived on Broadway since. After watching the scintillating, searing Encores! production at City Center, many people may wonder why the show was not more successful.
But then they should consider that the competition it was running against that year was no less than "My Fair Lady" and the "Music Man." It should also be noted that was the year of "West Side Story," and it just might be that one show featuring death caused by ethnic conflict was enough.
Based on the 1924 play "Juno and the Peacock" by Sean O'Casey, "Juno" is about the trials of an Irish family during the time of troubles when the IRA was terrorizing both the British and the Ireland it was sworn to defend.
"Captain" Jack Boyle (Conrad John Shuck) is a drunkard with an aversion to work so great that the thought of doing something productive renders him sick. His wife, June (Victoria Clark), is a strong-willed woman who keeps the family together by the strength of her character. Johnny Boyle (Tyler Hanes) is a bitter, secretive young man who has given an arm to the cause of Irish independence. Mary Boyle (Celia Keenan-Bolger) is a timid, impressionable dreamer searching for love, unaware that she has it in her neighbor, the timid but fervent Jerry Devine (Michael Arden)
When Charlie Bentham comes to the Boyle home and informs the Boyles that the Captain is about to receive a huge inheritance from a recently deceased cousin, their humble existence is totally transformed. The Captain and his wife go on a shopping spree with borrowed money. Mary falls in love with the affable Charlie. Only Johnny remains morose.
Four aging townswomen (Rosaleen Linehan, Kay Walbye, Louisa Flaningham and Jennifer Smith) serve as a Greek chorus in the guise of a spry female barbershop quartet Their signature song, "Poor Thing," is an ironic masterpiece.
Director Garry Hynes keeps the stage somber but doesn't let the show wallow in its tragedy. Nor does it have to. Despite its depressing theme, the score of Juno is rather upbeat. Many songs, most particularly Schuck's carousing "Darlin' Man," have an English music hall flavor. There are some quite beautiful ballads ("One Kind Word," "I Wish It So"). And an Irish lyricism inflects both the words and melodies throughout.
The dancing in "Juno" is also quite exceptional. The Irish clog is executed in some original combinations. Choreographer Warren Carlyle has certainly done justice to Agnes de Mille's incredible dream dance which features Johnny and his one armed doubles locked in a conflict that foreshadows what awaits him in the future.
Clark's striking performance provides the backbone of the show. But Schuck is a strong match as the hard-drinking, self-pitying Boyle. Arden only appears a few times, but his beautiful and beautifully sung love ballad is a high point.
Encores! has just sent "Gypsy" back to Broadway. Who know? That just may be a good sign for all shows that get the Encores! loving treatment.