Paulanne Simmons
"No Regrets: The Remarkable Barb Jungr"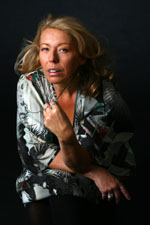 "No Regrets: The Remarkable Barb Jungr" by Barb Jungr at the Metropolitan Room.
"No Regrets: The Remarkable Barb Jungr"
The Metropolitan Room
34 West 22nd Street
Jan. 15 thru 19 at 7:30 p.m., Jan. 20 at 7 p.m.
Cover $20, two drink minimum (212) 206-0440
Closes Jan. 20, 2008
Reviewed by Paulanne Simmons Jan. 15, 2008
English chanteuse Barb Jungr began her six-day gig at the Metropolitan Room by telling her audience that it was Tuesday, not the sexiest day of the year. "So we have to do the best we can."
That is exactly what Jungr did. And Jungr at her best is something no one should miss.
Jungr, whose powerful voice ranges from low and husky to ringing with a slight tremolo, sang a repertoire heavily leaning toward her personal favorites, most specifically Bob Dylan. There was also some Jacques Brel, her own "Beautiful Life," (written with Adrian York), and an Edith Piaf classic, "Non, je ne regrette rien," which she performed with the same English lyrics Piaf used when she appeared in the United States. This is the song that gave the show its name, "No Regrets. The Remarkable Barb Jungr."
Of course, what's really remarkable about Barb Jungr is the way she makes every song her own. Thus Dylan's "I Want You," "If Not for You" and "I'll Be Your Baby Tonight" become love songs in ways the singer/songwriter himself may have never been able to realize. For the latter song, her New York accompanist, the superb Charlie Giordano, usually on piano, takes up his accordion for unexpectedly moving results.
A meticulous artist, Jungr was not satisfied with available translations of Brel's work. So she commissioned her own from Des de Moor for "Don't Leave Me" and "Marieke" because, as she said with a devilish glint in her eye, "People can't be bothered with learning French." For those in the audience who are unfamiliar with European geography, Jungr explained that the lines "from Brugge to Ghent" indicate a trip analogous to traveling from New York City to Trenton, NJ.
Jungr's emotionally vibrant interpretations of Elvis classics "Heartbreak Hotel," "for anyone dumped," and "In the Ghetto," a song he was initially cautioned against recording, played a big part in her repertoire as well.
If Jungr is passionate, she is also quite funny. Even the bleakest song is lightened by her ironic commentary. She peppers her performance with stories from her life that are personal enough to be interesting but not so intimate to be embarrassing. Brownie McGhee's "Rainy Day," was introduced with the revelation that she grew up "in a very wet place." Actually she grew up in a small town in northern England, which by all accounts seems something less than glamorous.
Jungr is sultry in a way that makes one think of crowded bistros entered through a beaded door, dimly lit and filled with smoke. Cigarettes are now banned in most public places. But, have no fear, Jungr provides her own smoke.