Paulanne Simmons
"The Power of Darkness" Has Great Dramatic Strength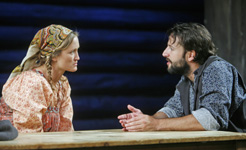 Angela Reed and Mark Alhadeff in "The Power of Darkness." Photo by Rahav Segev.
Directed by Martin Platt
Mint Theater Company
240 West 44th St. Between Eighth and Ninth Aves., Third Floor
Opened Sept. 24, 2007
Tues. thru Thurs. 7 p.m., Fri. 8 p.m., Sat. 2 & 8 p.m., Sun. 2 p.m.
$55, (212) 315-0231 or visit www.minttheater.org
Closes Oct. 28, 2007
Reviewed by Paulanne Simmons Sept. 29, 2007
Russian, novelist, playwright and philosopher Leo Tolstoy was born with the pedigree of a noble family. Yet, in "The Power of Darkness," written when he was fifty-eight years old, he shows an intimate knowledge of the effects of poverty, ignorance, sordidness and misery on peasant life.
Not surprisingly, the play was banned in Russia until 1895 when Tolstoy modified the play's most horrific scene. Nine years later, the play was a hit in New York when actor Jacob Adler performed in his own Yiddish translation. It was last seen in New York in 1959.
Now, Mint Theater Company, which has made its reputation on producing lesser known but worthwhile plays, is bringing the "The Power of Darkness" back to New York audiences in a new English version directed by Martin Platt. It is a powerful, if overly long window into the slow evolution of evil and eventual redemption.
"The Power of Darkness" is about a young hired hand, Nikita (Mark Alhadeff), who during the course of the play, deflowers Marina (Letitia Lange), an innocent peasant girl he meets while working on the railroad, abandons her so he can go on to seduce his employers wife, Anisya (Angela Reed), then, after she kills her husband so she can marry him, proceeds to ensnare their stepdaughter Anyutka (Jennifer Bissell). And that's just the beginning.
Tolstoy's goal in writing the play, however, was not merely to expose the depths to which immoral persons can sink. Nor was it to show the evil cunning of women. (Nikita's downfall was facilitated by his avaricious mother, Matryona [Randy Danson], as well as the pouting, self-righteous Anisya.). He wrote to reveal the saving power of faith in the Lord's goodness and mercy.
The only person in the play who truly follows the path of goodness and piety is Nikita's father, Akim (Steve Brady). Akim, unlike the other characters, does not mechanically cross himself in front of the icon that dominates Bill Clarke's evocative set. He lives the life of a devout man and is constantly trying to get his son to follow his example, unaware of the malign influence of the young man's mother.
"The Power of Darkness" could easily fall into soap opera schmaltz, but somehow this cast, which exhibits yeoman strength and endurance (the play is three hours long with one intermission), is able, under Platt's steady hand, to pluck the sincerity out of Tolstoy's sentimental work and make it ring strong and true.
Alhadeff is particularly effective in the difficult role of a weak and willful tyrant who lets others give direction to his careless immorality. His performance starts out slow and understated but builds in intensity to the play's painful climax.
By the time of Nikita's confession, "Listen to me, my friends, before God and all the Saints, I tell the truth. The design way mine, and the deed was mine. Take me wherever you like, do with me what you like. I will not speak another word," the play takes on a kind of mystical holiness one seldom sees on the modern stage.