Paulanne Simmons
Mystery and Mayhem in "Jewel Thieves!"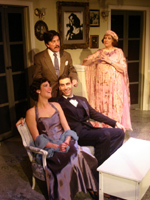 Jewel Thieves! by Norman Beim
"Jewel Thieves!"
Written and directed by Norman Beim
The Turtle's Shell Theater (in the Times Square Arts Center)
300 West 43rd St. at Eighth Ave.
Opened Sept. 24, 2007
Mon. 7 p.m., Wed. thru Sat 8 p.m. matinees 3 p.m. Sept. 29, Oct. 6 & 7
$18 (212) 352-3101 or www.theatermania.com
Closes Oct. 7, 2007
Reviewed by Paulanne Simmons Sept. 28, 2007
If Agatha Christie had written comedies, the result might have been something like Norman Beim's "Jewel Thieves!" now making its New York premiere at The Turtle's Shell Theater.
The cozy who-is-going-to-do-it, set in the elegant country home of former actress Gloria Desmond (the feisty Gerrianne Raphael), features Davis Hall as Harold Busby, a shady butler who is up to no good, Adam Raynen as Alfred Blunt, an obviously bewigged gentleman whose carburetor conveniently breaks down in front of Desmond's mansion, and Marnie Klar as Lady Lynne Fortescue, a phony countess who obviously is no lady at all.
Ms. Desmond is throwing a house party, mostly to show off the legendary necklace she inherited from her husband, who, like other owners of the cursed jewels, died young. But the jewels aren't even out of the vault before everyone is itching for them.
The tongue-in-cheek comedy is filled with Marx Brothers' style repartee. When asked whether her lost illegitimate child was a boy or girl, Desmond answers, "One assumes it was one or the other." And when she asks Blunt whether he likes jewelry, he answers, "I never wear it myself."
The play evolves like nesting dolls coming out of each other, as one mystery gives way to another and each of the characters' charade becomes apparent, until, after many twists and turns, the final phone call settles everything. But the biggest mystery is where the hell and when the hell does this play take place?
With all those British accents and the very European interest in the nobility (to say nothing of a butler who isn't really a butler because "butlers never dust; that's the maid's job"), one would assume "Jewel Thieves!" takes place somewhere in the UK. But then Beim ekes out a joke about Indians in one of Desmond's stories really being American Indians because she is so "patriotic," and one begins to wonder.
Then, when the guests onstage report that Theda Bara and Rudolph Valentino are among the offstage guests and blithely talk about landing on the moon as a fait accompli, one is really thrown into confusion.
Beim directs his own work, which may account for why these slips were not caught before opening night. But otherwise he does a good job moving his characters and his play along, though sometimes he lets "Jewel Thieves!" go uncomfortably over the top into the cornfields.
With the aid of a cast that totally embraces the absurdity, Beim manages to make it all work, despite obvious flaws in the narrative and the air of familiarity that hovers over the show. Like a diamond in the rough, "Jewel Thieves!" still glows.