Paulanne Simmons
"Rock Doves" Is Heartbreaking and Hilarious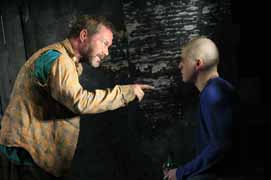 Marty Maguire and Johnny Hopkins in "Rock Doves." Photo by Jaisen Crockett.
Directed by Ian McElhinney
The Donaghy Theatre at the Irish Arts Center
553 West 51st St. between 10th and 11th avenues
Opens Sept. 16, 2007
Wed. thru Fri. 8 p.m., Sat. 2 & 8 p.m. Sun. 3 p.m.
$50 Wed. & Thurs. $55 Fri. thru Sun. (212) 868-4444 or www.smarttix .com
Closes Oct. 28, 2007
Reviewed by Paulanne Simmons Sept. 11, 2007
Religious conflict in Northern Ireland ended over two years ago. As Marie Jones writes in her new play, "Rock Doves," "the IRA boys are all drinking cappuccinos in Armani suites." But some, particularly Loyalists, have found it difficult to adjust. Former commanders traffic in drugs. Various factions fight amongst each other for local control. Violence in the cause of "freedom" has become violence for the sake of intimidation.
"Rock Doves" is set in a derelict house (Charlie Corcoran's design couldn't serve the play better) on the fringes of a Protestant Estate in inner-city Belfast. It is inhabited by a homeless alcoholic, Knacker (the magnificent Marty Maguire) when a desperate and nameless Boy (Johnny Hopkins) bursts into the abandoned wreck.
Meanwhile, the city is in a state of fear and turmoil. A Protestant commander has been caught by the police thanks to an informer, most probably one of his own men, and retaliation is feared. But inside their refuge the boy and the man effect an uneasy truce. The boy will tolerate Knacker's stench and delusional outbursts if he will be allowed to stay, and Knacker will not kick him out if he agrees to keep to his side of the room.
Soon Knacker gets visitors: Bella (Natalie Brown), an aging prostitute he met in London; and Lillian (Tim Ruddy) a transvestite who lives with her. Both come to the house to wait out the drama dividing the city.
The old house has other occupants too. These are the birds who have built their nests on its roof. Like the people in the house, they are migrants seeking refuge.
Jones tells her story with humor and empathy. She knows the devil is in the details in writing plays and in life. Thus Knacker complains, "No sooner have you washed yourself than you have to repeat the whole boring process all over again." And the boy responds bitterly, "I'd rather smell you than listen to you."
There's also a good deal of wisdom along with the humor. Lillian shrewdly observes of the Loyalists, "without an enemy, all they have left to fight with is each other." And Knacker notes that he's too sane to be oblivious.
The director, Ian McElhinney, is married to the playwright, which may account somewhat for the great success of this collaboration (their last endeavor was the comedy, "Stones in His Pockets"). Whatever may be the cause, the result is a staging that reflects a deep understanding of the playwright's goals and the personalities of her characters.
"Rock Doves" unfolds like a multi-layered puzzle. Each revelation brings new depth to the characters and more meaning to their actions. And McElhinney handles the convoluted but always advancing momentum like an experienced pilot steering a boat through a narrow channel.
But all this would be for naught if not for a cast that is perfectly in touch with its material and each other: Hopkins' petulant but totally sincere adolescent boy; Ruddy's vulnerable transvestite, sly in the cause of survival; and Brown's loving and lovable prostitute, determined to carry on, as she drags those she loves along with her.
Theater doesn't get much better than this.