Paulanne Simmons
Vit Horejs pokes through the puppet stage's floor in "Johannes Dokchtor Faust." Photo by Jonathan Slaff.
"Johannes Dokchtor Faust"
Directed by Vit Horejs
Bohemian Hall
321 East 73rd St., New York, NY
Opened Aug. 23, closed Sept. 9, 2007
Reviewed by Paulanne Simmons Sept. 1, 2007
In the United States puppetry is dominated by the Muppets and children's entertainment. So it may come as some surprise that the Czechoslovak-American Marionette Theatre (CAMT) has chosen for its latest production the centuries-old story of the learned Johannes Faust, who sold his soul to the devil in exchange for ultimate knowledge. But in Bohemia, puppetry developed as a folk art performed by itinerant puppeteers for an adult audience. And the Czech puppet interpretation predates Goethe's.
CAMT's "Johannes Dokchtor Faust" was adapted by company founder Vit Horejs (who also directs) from a puppet version signed only with the initials A.B. and eventually published in Prague in 1862. It is distinguished by Czech marionette variations, as well as Horejs' own.
Faust faces a lineup of devils. Photo by Jonathan Slaff.
The Czech puppeteers imported comedia dell arte characters and themes to the Faust story. They introduced the character of the jester, Pimprle, as well as three other comic characters: Faust's guards, Dumpling and Bigcheeze, and his German valet, Wagner. Frequently, the puppeteers mocked authority and inserted political jokes related to current affairs.
In Horejs' version, the Bush Administration is the brunt of many of the jokes. But references are also made to Craigslist, You Tube and other cultural phenomena of our day. He also substitutes yiddishisms for the original German puns. This works well with a New York audience, but in other places may be just as incomprehensible as the German.
"Johannes Dochtor Faust" is filled with clever effects and brilliant staging. The soundscape is produced by an accordion, drum. penny whistle, harmonica, metal sheet and harmonica. There is very effective use of a trap door. And the puppeteers themselves very ingeniously become part of the scenery.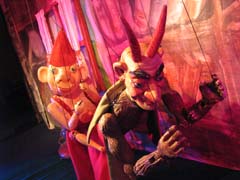 The impish Pimprle rides on a devil's back. Photo by Jonathan Slaff.
The legend of Faust, with its angels and devils flying through the air and its supernatural theme, is singularly well suited for marionette theater, and this production takes full advantage of all the magical possibilities. The only problem is that in its attempt to appeal to audiences "aged 5 to 105." CAMT has produced a show that is at times too complex for the youngsters and too simple for the adults.
Unlike Goethe's version, this Faust does not tackle difficult theological dilemmas. Faust is merely an avaricious buffoon who gets what he deserves. But after a while the Sturm and Drang and the cuffs and insults wear a little thin. By the end of "Johannes Dokchtor Faust," it seems a little like a cartoon that's gone on too long.