Paulanne Simmons
A Gay Look at Not So Gay Times
''1018: A House Divide''
Directed by Barbara Kahn
Theater for the New City
155 First Ave. between 9th and 10th streets
Opened April 5, 2007
Thurs. thru Sat. 8 p.m., Sun 3 p.m.
$12 (212) 254-1109 or www.theaterforthenewcity.net
Closes April 22, 2007
Reviewed by Paulanne Simmons April 8, 2007
I'm not sure how much of an audience there is for a musical about an Orthodox Jewish lesbian coming out in New York City in 1918. But for those willing to venture into unchartered territory, ''1918: A House Divided,'' with book and lyrics and direction by Barbara Kahn and score by Allison Tartalia, has treasures to be discovered: beautiful music, an excellent cast and a story that we can all understand and identify with in some way.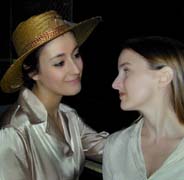 (Left to right): Victoria Levin as Rina Calvetti, and Victoria Lavington as Breindel (Billie) Gershon.
Breindel (Billie) Gershon (Victoria Lavington) is an aspiring artist who feels trapped in her father's Brooklyn apartment. When her father (the very believable Dan Leads) finds out she is a lesbian, he kicks her out over the protests of her good sister Raisl (Erin Leigh Schmoyer). Her life continues along its bohemian path. She goes to swinging parties, draws nude models and eventually falls in love with a compassionate Italian lesbian, Rina Calvatti (the warm and genuine Victoria Levin), who plays the piano at the local nickelodeon.
In the meantime, life goes on in the larger world. World War I takes its bloody toll. The great flu epidemic and the infamous Brooklyn subway crash do the same on a smaller scale. Both the larger and smaller stories in ''1918: A House Divided'' are told in a series of short scenes with music that ranges from martial to bluesy to lyrical. Particularly effective is ''The Last to Die,'' the haunting ballad Jamie (Robert Gonzales, Jr.) sings to the man he loves as that man goes off to war.
Barbara Kahn, who began her career as an actor with LaMaMa and has produced 14 shows at Theater for the New City, is a generous playwright. She has a penetrating worldview and a big heart. This time her desire to champion the causes of all the downtrodden, to right all the world's injustices leads her to take on more than a playwright can chew in one work.
''1918: A House Divided'' has many plots, subplots and themes. There are two sets of gay lovers, father/daughter and sister/sister relationships, and protests against war and for freedom of speech. Not all of this is completely integrated and interconnected in the play. At times the scenes and songs have mood swings that would drive a manic-depressive crazy.
Kahn has not kept her many scene changes moving quickly enough, which, combined with some over-explaining, makes the musical longer than it had to be.
But with all that said, ''1918: A House Divided'' is a moving and exuberant look at the world our mothers and fathers and grandmothers and grandfathers lived in: straight and gay, black and white, Italian and Jewish, in joy and sorrow.