Paulanne Simmons
''Sealed for Freshness''
''Sealed for Freshness''
Written and directed by Doug Stone
New World Stages
340 West 50th St. between 8th and 9th avenues
Opened Feb. 24, 2007
Until March 4: Tues. thru Fri. 8 p.m., Sat. 2 & 8 p.m. Sun. 3 & 7:30 p.m.
Beginning March 6: Tues. 8 p.m., Wed., 2 & 8 p.m., Thurs. & Fri. 8 p.m., Sat. 2 & 8 p.m., Sun. 3 p.m.
$65 (212) 239-6200 or telecharge.com
Reviewed by Paulanne Simmons Feb. 23, 2007
The year is 1968, the place a typical mid-west suburb, the set the home of Bonnie Kapica, complete with sunken living room, wet bar and tacky artwork on the wall. Doug Stone's ''Sealed for Freshness'' is dedicated to all those desperate housewives of the sixties whose emotional and sexual energy was funneled into that gala social event of the season, the Tupperware party. Stone, who also directs, presents five women in his over-the-top comedy of female frustration.
Bonnie (Jennifer Dorr White) is a good wife, mother and housekeeper whose insensitive husband, Richard (Brian Dykstra) has stopped noticing her and
(L to R) Nancy Hornback, Patricia Dalen, J.J. Van Name, Kate
VanDevender and Jennifer Dorr White. Photo by Carol Rosegg.
no longer performs his conjugal duties on any regular basis. Jean Pawlicki (Nancy Hornback), the block Tupperware rep, an apparently happily married and financially comfortable wife, harbors a secret misery. Tracy Ann McClain (Kate Vandevender), a youthful bimbo with an annoying and unnecessary lisp, has snatched up her husband on the rebound and is unaware of the future that awaits her when she too reaches middle-age. Sinclair Benevente (J.J. Van Name) is an obese, gross, foul-mouthed mother-to-be with a husband she despises and a brood she is none too fond of either. Diane Whettlaufer (Patricia Dalen) is the Tupperware super salesperson who has recently moved into the neighborhood and has graciously agreed to appear (or rather reign) at the party.
The central conflict of ''Sealed for Freshness'' is what to do with Sinclair, who refuses to get with the program, can't understand the fuss over ''plastic'' and refuses to wear the ridiculous Tupperware hat Diane has made for each of the women. Sinclair's wise-ass comments and the women's response to them, along with Tracy Ann's longwinded, pointless stories, are the source of some of the play's funnier moments, although none of them are particularly memorable.
Beneath the merriment, however, is a subtext of anger and anxiety that often turns into melodrama. Thus the play careens wildly, like a manic-depressive off lithium, from frenetic gaiety to biter despair. Sinclair's monologue about how much she hates her husband and children is an excellent example of the latter.
Stone is sure-footed in his direction but treads along familiar tracks in his writing. Not much originality can be found in either the humor or the drama of ''Sealed for Freshness.'' The message of liberation that seals the show like a good Tupperware cover, is much too tight for comfort.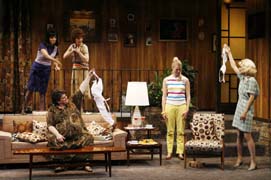 (L to R) Nancy Hornback, Jennifer Dorr White, Kate VanDevender, Patricia Dalen, and J.J. Van Name (seated) have something to burn. Photo by Carol Rosegg.
Yet there are many pleasures in ''Sealed for Freshness.'' If Stone's comedy couples the preschooler's potty humor with the adolescent's locker room jokes, it is sometimes funny in a surprising and surreptitious way. White, Hornback, Vandevender, Van Name and Dalen work well and amicably with each other. And Rob Odorisio's set couldn't be more perfect.
Most of all, women of a certain age will recall with a certain warmth those famous Tupperware parties of yore (does anyone still make Tupperware parties?) and will surely enjoy pointing out those products they may still have in their cupboards or refrigerators.
Even by today's commercial standards, ''Sealed for Freshness'' doesn't come close to theater as art. It is the kind of show critics love to tear apart and intellectuals single out for special scorn. But like most guilty pleasures, it often feels really good