Paulanne Simmons
"Meet Me in St. Louis"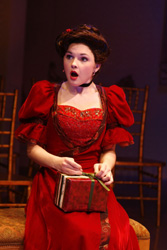 Photo by Carol Rosegg
"Meet Me in St. Louis"
Directed by Charlotte Moore
The Irish Repertory Theatre
132 West 22nd St. between 6th and 7th avenues
Opened Dec. 6, 2006
Wed. thru Sat. 8 p.m., Wed., Sat. & Sun. matinees 3 p.m.
$60 & $50 (212) 727-2737
Closes Jan 28, 2006
Reviewed by Paulanne Simmons Dec. 23, 2006
"Meet Me in St. Louis" Has "A Touch of the Irish" and Moore
In 1903 the king and queen of Serbia were assassinated, the Russian town of Kishinev was the scene of the worse attack on Jews in the new century, thousands of Bulgarian men, women and children were killed by Turkish troops, and Philippe Jean Bunau-Varilla led a revolution which resulted in Panama's independence from Columbia. But no one would know this from watching The Irish Rep's revival of "Meet Me in St. Louis."
Based on "The Kensington Stories" by Sally Benson (originally published in The New Yorker magazine and later in the novel 5135 Kensington) and the MGM motion picture, Hugh Wheeler's stage play is a delightful and tuneful look back at a time when we'd like to think the world was sweeter and slower. This, however, is not to say that time stands still in turn-of-the century St. Louis. Quite the contrary. The Smith family is eagerly awaiting the great Louisiana Purchase Exhibition, at which for he first time Mr. Edison's electricity will light up the streets. But in this entertaining play, progress certainly has a kinder, gentler face than we in the 21st century are accustomed to.
"Meet Me in St. Louis," directed by the company's artistic director, Charlotte Moore, stars John Hicock as pater familias Alonzo Smith, Sarah Pfisterer as his wife, Anna, and Merideth Kaye Clark as his daughter Rose, Bonnie Fraser as his daughter Esther and Ashley Robinson as his son, Lon. The two littlest Smiths, Tootie and Agnes, are played by Gabrielle and Danielle Piacentile respectively. The theater couldn't ask for a more musical family.
(It should be noted that Gabrielle and Danielle are two thirds of a trio of sisters who have performed in over twenty regional and stage productions and one feature film, much as Judy Garland, who took the role of Esther in the film, was once part of the Gumm Sisters threesome.)
"Meet Me in St. Louis" is a love story times four: Esther has fallen for the boy next door, John Truitt (Colin Donnell), Rose is courted by Warren Sheffield (Doug Boes), Lon has a liking for Lucille Ballard (Kerry Conte), and, of course, Mr. and Mrs. Smith are forever in love. All the young romances are fraught with misunderstandings, but nothing compares to the difficulties presented by Mr. Smith's proposed move to New York City, of all places!
Needless to say, young love eventually triumphs and major problems are worked out, mostly through Hugh Martin and Ralph Blane's excellent score, which contains such crowd-pleasers as "The Trolley Song," "Have Yourself a Merry Little Christmas," and the titular "Meet Me in St. Louis."
Most of the work presented by The Irish Rep has a much stronger connection to Irish themes than "Meet Me in St. Louis," which only has one such reference, "A Touch of the Irish," the song in which the Smith's housekeeper, Katie (Becky Barta) offers the young girls advice on how to deal with love and courtship. But however slight the link, one should be grateful that The Irish Rep has taken on this beautiful little gem.
Moore's direction, coupled with Tony Straiges' set and Robert-Charles Vallance's costumes, brings us back to a time which, from the perspective of the 21st century, seems very close to heaven. And this reviewer defies anyone to leave the show without humming "Meet me in St. Louis, Louis…" or "Clang, clang, clang went the trolley…"