Paulanne Simmons
"Twelfth Night"… the Russian Way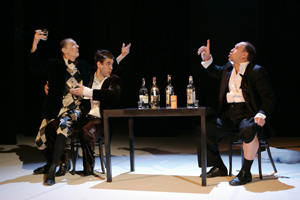 Photo by Richard Termine
"Twelfth Night"
Directed by Declan Donnellan
BAM Harvey Theater
651 Fulton St. between Ashland and Rockwell places
Nov. 7 – Nov 12
Reviewed by Paulanne Simmons Nov. 9, 2006
Declan Donnellan has two lives. In England he is co-artistic director (with Nick Ormerod) of Cheek by Jowl, which has produced French classics like Corneille's "The Cid" and Racine's "Andromache"; works from the Shakespearean cannon like "Measure for Measure" and "As You Like it"; and an occasional venture into modern drama, such as Tony Kushner's "Homebody/Kabul." In Russia, Donnellan heads a company of Russian actors working under the auspices of the Chekhov International Theatre Festival. This group has performed "Boris Godunov," "The Three Sisters," and now ventures into Shakespeare with a ravishing production of "Twelfth Night."
Donnellan's "Twelfth Night," at the BAM Harvey Theater Nov. 7 through 12, is performed in Russian and bursts with Russian emotion and exuberance.
The actors, dressed in light beige suits and straw hats (when they're women they wear slinky dresses), look like Russian gangsters on vacation at some resort on the Black Sea. The play opens with a band of musicians, in white shirts and suspenders, who play a bossa nova like a Las Vegas act that's also on vacation and having fun. Ormerod's set trades Elizabethan conventions for linen banners (black, then white) suspended from the ceiling, which could be just about anything but serve extraordinarily well for surprise exits and entrances, and peek-a-boo mischief.
Yet, this "Twelfth Night" seems to get at the heart of Shakespeare infinitely better than many more traditional productions.
Much of what makes this production so Shakespearean and so satisfying is its tremendous physicality. Donnellan seems to have found a visual equivalent for Shakespeare's vivid language. And he develops it with the subtlety of Groucho Marx mixed with the slapstick of the Three Stooges.
But none of the above would work were it not for a troupe of actors who eagerly and expertly jump into the comedy of mistaken identity, ribaldry at war with Puritanism, and cross-dressed lovers at cross purposes. The striking originality of this production stems from the fact that the cast is all-male and all Russian.
Photo by Richard Termine
Although Shakespeare was originally performed only by men, the female roles were played by young boys whom, one can imagine, made every effort to appear to be women. In this version of "Twelfth Night," the male actors reinforce their maleness repeatedly while they are playing women (Alexey Dadonov as Olivia; Ilia Ilyin as Maria, Olivia's gentlewoman) or while they are playing women pretending to be men (Andrey Kuzichev as Viola).
Donnellan's actors approach Shakespeare from a definitely Russian point of view. Alexander Feklistov as the drunken Sir Toby Belch makes one wonder whether Shakespeare was not imagining a Russian peasant sharing a bottle of vodka with a pal, in this case the inane Sir Andrew Aguecheek (Dmitry Dyuzhev), when he wrote the part. Igor Yasulovich as Feste, the fool, seems to come straight from the Russian circus. And Sir Toby and Maria's plot to get even with the prudish, hypercritical Malvolio (Dmitry Shcherbina) is filled with Russian irony.
Donnellan's roguish route to Shakespeare includes some deviation from the text, especially in the beginning and the end of the play. But only someone scrutinizing the English surtitles would know or care. Certainly, it's hard to imagine the Bard, who was famously careless in transcribing his work, would mind much when a little playful tweaking results in such a brilliant interpretation.