Paulanne Simmons
"The Wild Duck" Lands in Brooklyn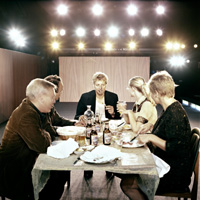 "The Wild Duck"
"The Wild Duck"
Directed by Eirik Stubø
BAM Harvey Theater
651 Fulton St., between Ashland and Rockwell places
Oct. 25 thru 28 7:30 p.m., Oct. 29 3 p.m.
$20, 30, 45, 50 (718) 636-4100 or www.bam.org
By Paulanne Simmons
In the United States, Henrik Ibsen is best known for "A Doll's House," "An Enemy of the People" and "Hedda Gabler." But in his own country, Norway, "The Wild Duck" is one of the playwright's most cherished plays. In fact, it was the challenge of rediscovering the play and upsetting many people's preconceived ideas about it that led Eirik Stubø, artistic director of the National Theatre of Norway, to stage his own production of the play. This production will be coming to BAM's Harvey Theater October 25.
Stubø believes "The Wild Duck" is not very well known abroad because it is not political and, unlike "A Doll's House," which is considered a feminist play by many, it has not "molded cultural movements." "The Wild Duck" is popular in Norway, however, because it "appeals to something quite Norwegian."
The play is essentially a family drama. It begins with Gregars Werle's return to his hometown, where he is reunited with his father and boyhood friend, Hjalmar Ekdal, after a fifteen-year absence. He soon finds out that Hjalmar has married the Werle's former housemaid, Gina, and is the father of a 14-year-old girl, Hedwig. When Gregars learns that Gina was his father's mistress and Gina's marriage to Hjalmar is the result of his father's machinations, Gregars believes it is his duty to tell his friend about the deception. His perhaps well-meaning revelation tears the family apart and results in tragedy.
In this production, created two years ago for a Norwegian audience, Stubø has taken certain liberties with the text (for example, he has eliminated the opening dinner scene) in order to make the play more ambivalent and more contemporary.
"Ibsen is a very intellectual playwright," Stubø says. "But his weakness is he explains too much. I wanted to leave it to the audience to decide, to find a new openness. Historically, directors have tried to explain why a fourteen-year-old girl kills herself, but I didn't want to convince the audience that what was happening onstage can be reduced to a psychological or sociological theory."
Karl Gravklev has created a set with two rooms, the smaller one in front representing "so-called reality" and the larger one in back symbolic of "secret longings, dreams and lies," Stubø says. The play is set in the time of the 50s and early 60s, ("a certain age of innocence") and incorporates the music of Elvis Presley and the Beach Boys.
Stubø feels it is important to show Ibsen as not merely a writer of essays. "'The Wild Duck' is a very moving play," he says. "Many times I have the impression that Ibsen doesn't really like his characters. 'The Wild Duck' is probably the play where Ibsen is the most tender toward his characters."
For Stubø, it is also important to be true to what he feels is most important in the play. In the case of "The Wild Duck" that is the universal questions it asks.
"Hedwig's death is not the result of what her mother says. It's about the impossibility of living in an authentic way," Stubø says. "The people in 'The Wild Duck' live in an artificially constructed world. The play asks, where does reality begin?"