Paulanne Simmons
A Tale of Two Sisters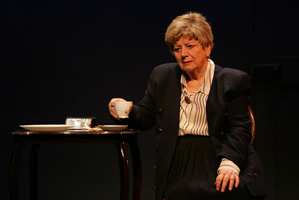 Anna Manahan. Photo by Valerie O'Sullivan
"Sisters"
Directed by Michael Scott
59E59 Theaters
59 East 59th St. between Park and Madison
Opened Sept. 12, 2006
Tues. thru Fri. 8:15 p.m., Sat. 2:15 p.m. & Sun. 3:15 p.m.
$40 (212) 279-4200 or www.ticketcentral.com
Closes Oct. 15, 2006
Reviewed by Paulanne Simmons Sept. 16, 2006
Anyone who has a sibling knows how selective memory and personal grievances color interpretations of what should be collective family experiences. These conflicts and resentments, the result of family politics, are poignantly explored in Declan Hasssett's "Sisters," written for the 82-year-old Irish actress and Tony-winner Anna Manahan.
Manahan plays two sisters, Martha and Mary, who like their biblical counterparts, represent bitter resentment and uncomplaining generosity of spirit. In two brilliant monologues she lays out the case for each of the sisters.
Martha is introduced on her seventieth birthday. She is in the house she grew up in and she is waiting for her sister, her only invited guest, to arrive and share her birthday cake. Martha recounts her lonely and loveless life: how she hated her mother; adored her father, who died when she was still a child; and resented her sister, who was not only their mother's favorite, but also managed to escape from their tiny village and become a teacher in Dublin. "Mary would talk the lid off a pot when she was in the mood; her stories about life in Dublin and at the school could have been about another planet," Martha says.
Mary walks onstage in act II after burying Martha. Unlike her dowdy, complaining sister she is well-dressed and speaks with reason and compassion. She is not at all the uncaring sister described by Martha. Although she too has grievances ("Father always sat at the end of the table where Martha was. Oh I envied how close those two were… I wanted father to love me too."), she does not hold grudges. "Oh I loved Martha, I loved Martha deeply. I felt responsible for her, I tried to love her. I hope she knew that," she says with both insight and regret. Even more meaningful, it becomes apparent that, like Martha, she has been lonely and unloved as an adult.
Although the first act sometimes drags a bit, the second act in the shadow of previous revelations, is positively riveting. There are many aha! moments when one thinks, so that's what really happened. But is it? It is only in the last few moments of "Sisters" that the play makes a surprising twist, turning it into an Irish version of "Whatever Happened to Baby Jane?" with all the horror that implies.
Although Hassett has provided Manahan with an excellent script and director Michael Scott has kept the production simple (Stuart Marshall's set is as barren as these women's lives) as it should be, Manahan is the one most responsible for the evocative power of the play. It is her understanding of complex personalities and ambivalent relationships that turn an all-too-common rivalry into the stuff of tragedy.
"Sisters" is not the pleasantest of shows, but watching Manahan is definitely a joy.