| go to index of reviews | go to entry page | | go to other departments |

The Short, Violent Life of Margie Good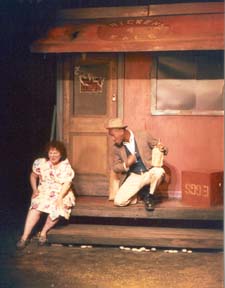 Crystal Field and Craig Meade in Jimmy Camicia's drama of intolerance, "The Short Violent Life of Margie Good." (Jonathan Slaff photo)
"The Short, Violent Life of Margie Good"
Written by Jimmy Camicia
Directed by Harvey Tavel
Theater for the New City
155 First Ave. (at E. 10th St.)
$10/tdf; Box Office (212) 254-1109
Opened April 6, plays through April 28
Reviewed by Paulanne Simmons, April 14, 2002
"The Short, Violent Life of Margie Good" is the kind of play Broadway, Off-Broadway and Off off-Broadway audiences don't get to see often these days - a realistic drama with no chorus line, no incomprehensible dialogue, and no blood, nudity or any other devices designed to soothe or scare.
The play also isn't exactly what one might expect from playwright Jimmy Camicia, best known for depicting the downtown New York City gay and lesbian scene; or director Harvey Tavel, whose extreme theater styles gave birth to the Theatre of the Ridiculous.
It is compelling drama that can be experienced at the Theater for the New City until April 28.
Crystal Field, who is the artistic director of the Theater for the New City, stars as Margie Good, a coarse but tender-hearted laundress, the wife of a handsome but abusive alcoholic and the mother of an ungrateful son (both of whom the audience hears but never sees). From the opening scene, which shows Margie at he ironing board answering the phone call that will change her life until the play's violent ending, Field spreads her warmth wantonly across the stage.
Field smokes and swears, brawls and begs; as she lugs her laundry and her worries about town, the audience almost smells the freshly cleaned shirts and certainly feels her anguish.
Other residents of the town are Athena Cheasre (Darby Dizard), who never gets out of her robe and dressed, Justine Sweeney (Marian Sarach), who probably never got undressed, and Helen Ricci (Dorothy Cantwell) - three catty housewives who enhance their boring lives by tearing apart the lives of other people; and Vera Cheasre (Irma St. Paule) and June Ricci (Mary Tierney) - two old ladies who recite their rosaries and complain.
James M. Holmes (Craig Meade) is the town drunk, an African-American veteran who has never been the same since returning from the war. He's also Maggie's high school friend and remains her confidant and suppliant - coming around from time to time for food and money.
Meade is superb in the difficult role of a pre-Civil Rights black man - dreamy, defiant and defeated, all at the same time.
When a young mulatto girl, Alice Elliot (the bit too teary Althea Vyfhuis) comes to town searching for her birth parents, the townsfolk bare their fangs. Their vicious chatter over past sins and slights now has a focus.
"The Short, Violent Life of Margie Good" has the sexual tension of Tennessee Williams and the social consciousness of Clifford Odets. Although it mercilessly depicts the evils of racism and intolerance, it also sheds light - thanks in great part to Mark Marcante's brutal set - on the mean existence of working-class whites, whose marginally elevated status allows them to feel superior to the blacks they scorn.
"The Short, Violent Life of Margie Good" owes much of its realism to Camicia's childhood in a small New Jersey town. The bitter and bigoted remarks of the characters are as familiar as they are frightening. But the play is more than a polemic against racism. It is a riveting and moving drama about people who deserve not only our contempt, but also our pity. [Simmons]