Sutton Foster in "Sweet Charity":
Up Close and Personal
Pershing Sq. Signature Center, 480 West 42nd Street, NYC
Through Jan. 8 It's a tough ticket, but try www.ticketcentral.com
Reviewed by Philip Dorian October 22, 2016.
How cool would it be to have Sutton Foster come to your house to sing and dance in your living room? And suppose she brought some talented friends to perform with her?
Well, that's not gonna' happen, but you can come close by seeing the mega-watt star – and her pals – in "Sweet Charity" in the most intimate musical-theater venue in NYC these days: The Pershing Square Signature Center, where no seat is more than a few rows from the lip of the stage. And while The New Group production is scaled down, it doesn't miss a beat of the terrific Cy Coleman (music) and Dorothy Fields (lyrics) score. It even seems to have improved Neil Simon's book, still set in the 1960s, but somehow less dated than I recall.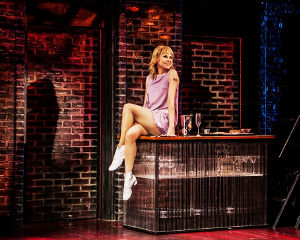 Sutton Foster solo

The hooker-with-a-heart-of-mush was never better captured than in Federico Fellini's 1957 Oscar-winning "Nights of Cabiria." Ten years later, Cy Coleman et al, with a major assist from Bob Fosse, adapted that movie into "Sweet Charity."
Originally played by Gwen Verdon, Charity, who wears her heart not only on her sleeve but tattooed on her arm, remains one of theatre's signature song-and-dance roles. The song-and-dance part of it is in Sutton Foster's wheelhouse, of course, but there are colors to her Charity that complement that element. This cabaret-styled "Sweet Charity" satisfies on several levels. Not only does Ms. Foster ace her musical turns, she mines them emotionally; "If My Friends Could See Me Now" couldn't be more whimsical, "I'm a Brass Band" more joyous, or "Where Am I Going" more heartbreaking.

Fan-Dango Ballroom hostess Charity Hope Valentine always picks the wrong man, one of whom "played handball and the horses." She finds a better one when she's stuck in an elevator with claustrophobic Oscar. She tells him she works in a bank, but he finds out the truth and claims it doesn't matter that she's 'danced' with lots of men. Maybe it doesn't matter. But maybe it does.

There's a prologue, with Charity being dumped/dunked in Central Park ("You Should See Yourself," she sings), but the show really takes off with the Fan-Dango taxi dancers, as they were called, hawking their wares ("Hey Big Spender"). The six, including Charity, are a shade on the world-weary side, but still alluring in spangly red onesies that have also seen better days. That they are bonded by their work and life situation is clear from the jump.

In a scene that stands alone as a comedy classic, Charity finds herself the unexpected guest of Italian movie star Vittorio Vidal (one of three roles played superbly by Joel Perez). How fortunate for Charity (and for us) that Vittorio's souvenirs include his top hat and cane during her "If My Friends Could See Me Now" number. And while "Charity" veterans may not remember his also proffering a pair of tap shoes, they're not likely to forget it now.

Charity and two Fan-Dango co-workers lament "There's Gotta' Be Something Better Than This." Asmeret Ghebremichael and Emily Padgett complete a formidable trio with Foster; later, the duo's "Baby, Dream Your Dream" is outstanding.
I've never been a fan of the elevator scene. It's not Neil Simon at his best, but Shuler Hensley's uninhibited abandon to its silliness is a mini-masterpiece. Matched by Foster, it is a supremely funny ten minutes. (Cast against type, Hensley, who played The Monster in "Young Frankenstein" on Broadway, is terrific.)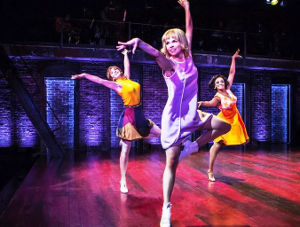 Emily Padgett, left, Sutton Foster and Asmeret Ghebremichael in the "There's Gotta' Be Something Better Than This" number

Derek McLane's sets are necessarily minimalist, but there's never a doubt where we are. Director Leigh Silverman and choreographer Joshua Bergasse might be accustomed to more expansive work spaces, but what they've created on a modest-size, raised rectangular playing area proves the adage that the best things come in (relatively) small packages.
The ads for next spring's "Hello Dolly" tout its 40-piece orchestra. I hope they do as much for Jerry Herman's score as music director Georgia Stitt's dynamite six-woman band does for Cy Coleman's. (One of the six, Nioka Workman, is a cellist…love it!)

That this "Sweet Charity" is an ensemble piece is exemplified by its alphabetical-order cast listing. The leading woman is but one star in a first-class constellation. Sutton Foster in this play with this cast in this theater adds up to matchless entertainment.