AUGUST STRINDBERG'S "CREDITORS"
IN 2023
April 27 to May 14, 2023
Theater for the New City, 155 First Ave., presents August Strindberg Rep in "Creditors 2023," based on "Creditors" by August Strindberg.
Reviewed by Paul Berss May 12
From April 27 to May 4, 2023, Theater for the New City (TNC) presented August Strindberg Rep in a new version of Strindberg's "Creditors" adapted and directed by Robert Greer. Considered by many to be Strindberg's most profound work, it is taut and psychologically brutal. The play has a cast of three troubled people - the painter Adolf was played by Brad Fryman, his wife Tekla was played by Natalie Menna, and the stranger Gustav was played by Mike Roche.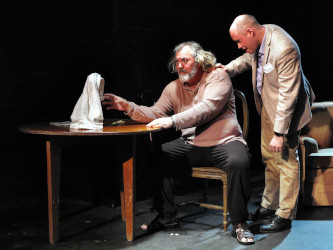 Brad Fryman (Adolf) and Mike Roche (Gustav). Photo by Jonathan Slaff.
The opening finds the artist Adolf sculpting a small statue and having a conversation with a new friend, Gustav, who informs Adolf that he witnessed his wife Tekla flirting with four young men, obviously a favorite pastime of hers and something at which she excels. Gustav tries to instruct Adolf on how to handle women, feigning friendship in a style that is actually challenging and destructive. Adolf is, nevertheless, taken in, and confides in his new friend his insecurities about his marriage. Come to find out that Gustav is actually Tekla's first husband, whom she humiliated and threw over for Adolf. An Iago-like character, Gustav has come for revenge. After the two men converse, Gustav exits as Tekla returns home. She and Adolf have a conversation that turns competitive and filled with jealousy, suspicion, and lack of mutual trust - an unhappy love/hate relationship. After a heated exchange, Adolf exits and Gustav returns, supposedly to show Adolf the right technique with women. His plan, however, is to seduce Tekla while Adolf listens from the next room. She is charmed at first and agrees to meet Gustav before realizing that he is toying with her. Adolf, totally shattered, succumbs to a fatal attack of epilepsy and falls dead. Tekla is distraught and, before exiting, Gustav sarcastically remarks that "She must have loved him, too. Poor creature."
Adolf and Tekla: Brad Fryman and Natalie Menna. Photo by Jonathan Slaff.
Translator/director Robert Greer is Artistic Director of August Strindberg Rep, which is a resident company of Theater for the New City. He has staged 15 Strindberg plays with this company to-date. TNC had produced Mr. Greer's adaptation of "Creditors" once before, in its 2018 Dream Up Festival. That production was visually styled in its original period. This time, its "look" was contemporary, to fulfill the idea of it being set in Montauk today.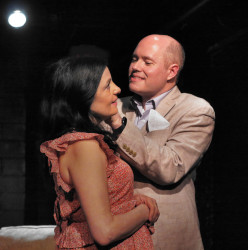 Tekla and Gustav: Natalie Menna and Mike Roche. Photo by Jonathan Slaff.
Brad Fryman as Adolf gave a fine performance as a broken, confused, and unhappy man; Natalie Menna as Tekla was a convincing flirt, even with her husband; and Mike Roche as Gustav struck a good balance between being a helpful friend on the surface, and his harmful agenda that lies beneath. I was a little thrown, as Gustav is described as older than Adolf, but he actually looked younger to me, which put a different spin on the story, though the objectives and the personalities of the characters remain the same.
Plays from earlier periods often distance us emotionally from the evils they display. But this one is modern in the sense that the evil is unmistakeably OURS, making the mendacity of its characters so powerfully troubling as to be actually difficult to watch.
Theater for the New City is to be commended for presenting one of Strindberg's classics, for its role in spotlighting plays that underlie our modern drama, and for providing Mr. Greer with an extended development process for his version of this important play. [PB]