"Romeo and Juliet" in the Parking Lot
Shakespeare in the Parking Lot in "Romeo and Juliet"
July 11 to 27, 2019
La Plaza @ The Clemente Parking Lot, 114 Norfolk Street
FREE
Subways: F to Delancey Street, M to Essex Street.
Presented by The Drilling Company
Reviewed by Paul Berss July 26, 2019
Adam Huff (Romeo) and Anwen Darcy (Juliet) on Juliet's balcony.
Shakespeare in the Parking Lot proudly presented a well paced and engrossing production of Shakespeare's "Romeo and Juliet" for its 25th Anniversary Season.. Running one hour and 45 minutes and free to the public, the play was set on the Lower East side of New York and performed in casual, even funky, modern dress.
I enjoyed seeing that, unlike a production of two years ago, this cast seemed to be comfortable with the Shakespearean language. They clearly understood who they were and what they were saying. The production stayed true to the Shakespeare text with an occasional modern reference (a joking line about wearing white after Labor Day, for example).
Una Clancy as Nurse. Photo by Lee Wexler/Images for Innovation.
While there were standout performances, the cast in general worked well together, under the intelligent direction of Lukas Raphael. A couple of performers got off to a rocky start, I felt. Anwen Darcy as Juliet worried me a bit in her first scene. I feared that she was going to play Juliet as a Valley Girl, but she soon abandoned that style and was quite youthful and believable.
Jack Sochet as Lord Capulet played his first scene like a Catskill tummler. I was able later on to see him as an in-charge, tough personality, unsympathetic to Juliet's resistence to marrying Paris. Adam Huff as Romeo also gave a strong, passionate performance and was especially well-spoken . Alessandro Colla was a robust Mercutio, executing very impressive fight choreography created by Frank Alfano, for Mercutio and Jake Lesh as a formidable Tybalt. Una Clancy did a fine job as Juliet's Nurse, and non-traditional casting found Serena Miller as The Friar.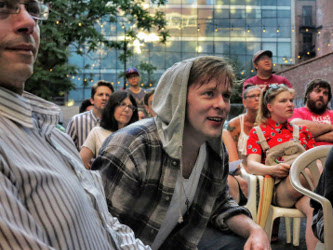 Adam Huff (Romeo).
The performance that I attended was totally sold out, and it appears that the Company enjoyed a very successful 25th Anniversary Season. I don't know what's planned for next year, but I'm looking forward to more Shakespeare in the Parking Lot. [PB]