COLORSTRUCK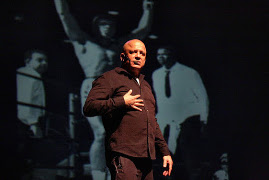 Photo by Auintard Henderson.
February 28 to March 17, 2019
Theater for the New City, 155 First Ave. (at E. 10th Street)
Presented by Theater for the New City
Thursdays through Saturdays at 8:00 PM, Sundays at 3:00 PM
$20 general admission, Sundays pay-what-you-can
Box office: Smarttix (212) 868-4444, www.smarttix.com
Running time: 1:20
Reviewed by Paul Berss March 7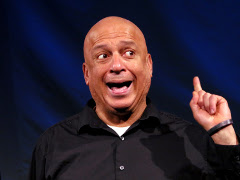 Photo by Marielle L'Hostis
Theater for the New City presented writer/actor/comedian Donald E. Lacy, Jr. in his one-man show, "ColorStruck," written and performed by Lacy and directed by Sean San Jose. Lacy's winning personality is evident from the outset - he's a natural performer and communicator as he takes the audience through a range of emotions and situations and realities.
Photo by Marielle L'Hostis
His starting point, and one that he returns to throughout the show, is his childhood in Oakland, California, and the difficulties he encountered as a light-skinned black man. Along the way, he shows dozens of slides of famed and accomplished black men and women in all different fields; then returns for hilarious stories about his grandmother and sister, complete with funny but loving imitations.
Photo by Marielle L'Hostis
He then moves to horrendous pictures of black men hanged by white crowds, who stand at the gruesome scene smiling at the camera. Lacy reminisces about different black hair styles through the years - any old hair styles are guaranteed to amuse - complete with a slide show of examples. Along the way there is singing and dancing, talking directly from time to time with audience members, responding if they shout out something.
It's a seamless ride from hate and injustice to funny and heartwarming, all artfully blended and delivered by a master entertainer who is at once an actor, a comedian, a thinker and an activist. [PB]