Shakespeare in the Parking Lot
"Macbeth"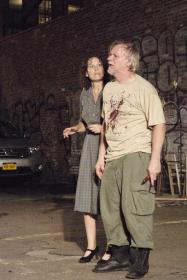 MACBETH IN THE PARKING LOT - Sheri Graubert (Lady Macbeth) and Dan Teachout (Macbeth) , covered with Duncan's blood. Photo by Aurelie Camus.
"Macbeth"
July 30 to August 15, 2015 (closed)
Parking Lot behind The Clemente,
114 Norfolk Street
(E. side of Norfolk St. between Delancey and Rivington)
Presented by The Drilling Company
Reviewed by Paul Berss August 13, 2015
The performance got off to a delightful start with young Joe Clancy greeting the audience reminding them to turn off their cell phones, etc. He's a young man, around 13 years old, I would guess, who is totally comfortable on stage in both his roles in the play and delivering the welcoming announcement--he's a natural! The free performance did indeed take place in a parking lot before a very large, enthusiastic, and appreciative audience.
The play's the thing, however, and this Macbeth was performed by a large, hardworking, likeable, but very uneven cast. The setting of this Macbeth was changed to a banana republic and directed by Jesse Ontiveros, of Mexican heritage. This was especially fitting in light of the Company's new partnership with the Clemente Soto Velez Cultural and Education Center, a long established downtown organization that places an emphasis on Latin culture. Costumes were functional and consistent, with tee shirts and pants, military or camouflage outfits for the men, simple dresses for the women, imaginative black costumes for the witches. Flamenco music played softly in the banquet scene in which Macbeth sees the ghost of Banquo (Lady Macbeth's unceremonious dismissal of her guests in this scene was beautifully done.) The theme of Macbeth remains the same, of course ­ out of control ambition and the desire for power at any cost, with the subsequent guilt, remorse, and death. The language also remains the same, and is a detraction from the play when not delivered as though it is the speaker's natural, normal form of expression.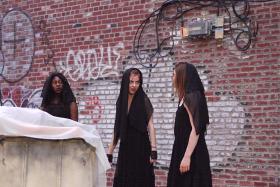 L-R: The three witches Leila Okafor, Llewie Nunez, Gracie Winchester relishing their roles. Photo by Aurelie Camus.
The three witches, played by Gracie Winchester, Llewie Nunez, and Leila Okafor, relished their roles and were quite effective, as was Kineta Kunutu as both a servant and Hecate. Lady Macbeth was portrayed by Sheri Graubert, who had done much work in both the U.S. and England. She speaks with an English accent, is obviously experienced and comfortable performing Shakespeare.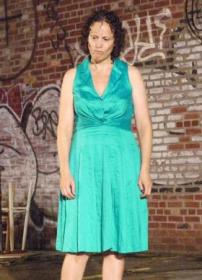 Sheri Graubert (Lady Macbeth) was all passion and emotion. Photo by Aurelie Camus.
Her Lady Macbeth was all passion and emotion, and even her plotting and coldness seemed to be arrived at by instinct rather than pragmatism planning. Dan Teachout as Macbeth did a fine job in conveying his emotional torture and repentance, though I wished that he could have mastered the language more completely. Lucas Calzada turned in a beautiful performance as Malcolm with fine projection, delivery of his lines, and an elegant and natural stage presence. Also commendable were the fight sequences, two short but effectively choreographed and executed segments.
The audience was with the performers all the way, cheering at the end of the two hour, no intermission, presentation. Best of luck to the company in their new home. [Berse]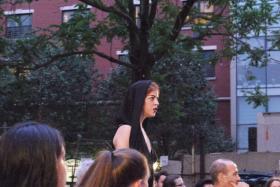 WHICH WITCH IS SHE -- Llewie Nunez (Witch) moves through the audience. Photo by Aurelie Camus.
BANQUO'S GHOST BREAKS UP A NICE DINNER -- L-R: Kineta Kunutu (Hecate), Leila Okafur (Witch), Gracie Winchester (Witch), Llewie Nunez (Witch), Sheri Graubert (Lady Macbeth) and Dan Teachout (Macbeth). Photo by Aurelie Camus.
OH, HECATE -- Kineta Kunutu (Hecate) between the stage and the cars. Photo by Aurelie Camus.